| | | |
| --- | --- | --- |
| | Norfolk Tides | 24 |
---
Notice: All logos on this page are included within the parameters of 17 U.S.C. § 107, which states that the reproduction of a copyrighted work for purposes of criticism and/or comment is not an infringement of copyright. No challenge to the copyrights of these logos is intended by their inclusion here.
---
Posted 2010 August 23
Any time a team picks an abstract noun as its name, it immediately set itself up for trouble in the logo department and (if they are inclined to have one) the mascot department. When this happens, the team has to get creative. Sometimes it's easy and it works: of course the Washington Nationals' mascot is an eagle; what else could it be? Other times it's a little more strained but still manages to work, such as Boston's "Wally the Green Monster". Sometimes it's just too weird to work. Examples include the Philly Phanatic, Mr. Met, and the Norfolk Tides' own mascot, Rip Tide.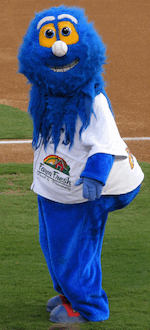 This is Rip Tide. He is arguably the most unnerving mascot in the world. The "whites" of his eyes are yellow, or maybe he just has patches of yellow skin surrounding his eyes. His eyebrows are white. His nose is a baseball. He walks around with a smile that makes him look like he's searching for little girls to offer candy to. He has a phenomenally large ass. This, my friends, is one seriously fucked-up mascot. If I had a child, I would not want to take him or her to a Tides game for fear that this abomination would haunt my child's nightmares for years to come. Heck, he might haunt mine, too. Even worse, you can apparently have Rip Tide show up at your birthday party, parade, et cetera. My word...they let this creature loose! I'm sure there's some school in the area that's been foolish enough to have him show up for some event. That, as far as I'm concerned, is grounds for a lawsuit.
It didn't have to be this way. They could have picked another name, one which would allow them to have a more reasonable mascot. In fact, when the team was founded, there was a "Name the team" contest and the winner was actually "Mariners". The results were overturned so that the team could be called the Tides. Even worse, they weren't originally the Norfolk Tides. They were the Tidewater Tides. Yech. Fortunately, somewhere along the way the team decided to change their location name to Norfolk. If you ask me they could have changed the "Tides" part as well, but I have to acknowledge that it was still a massive improvement.
But while the name is flawed and the mascot is execrable, they did quite well in the logo department. The wave does a good job of representing the tide, and the letters are classy looking. I do wish the wave looked a little less like a Nike swoosh, but that's my only real criticism of the logo. I'm not saying it's a great logo — good yes; great, no — but you'd be hard-pressed to come up with something better for the name "Tides".
Now if they could just do something about that...creature. There are so many other directions they could have gone. They could have used a surfer — admittedly the area isn't well known for surfing but it would still be an improvement over what they have now. Or they could use any number of aquatic animals found in the area. (Blue Crabs! It's the Chesapeake Bay, for crying out loud!) Or how about a sailor, given the military presence in the area?
Heck, they could use a cowboy if they wanted. It would be no less irrelevant, and a darn sight less scary.
Final Score: 24 points.
Penalties: Letter, 24 pts.
Bonuses: None.
---
This page Copyright ©2010 Scott D. Rhodes. All rights reserved