| | | |
| --- | --- | --- |
| | Bakerfield Condors | 17 |
---
Notice: All logos on this page are included within the parameters of 17 U.S.C. § 107, which states that the reproduction of a copyrighted work for purposes of criticism and/or comment is not an infringement of copyright. No challenge to the copyrights of these logos is intended by their inclusion here.
---
Posted 2004 March 21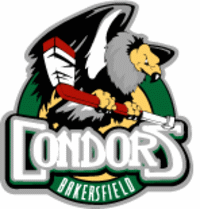 Several years ago, this team was named the Bakersfield Fog. It wasn't a bad name, but hoo boy, was that logo awful! It was a grey amorphous blob with big, red eyes, teeth (some of them missing), and gloves that ludicrously came out of the fog in order to hold the ubiquitous hockey stick. About the only thing it had going for it was...no, scratch that, it didn't have anything going for it.
So as you can see, when the team changed their name to the Bakersfield Condors, there was only one direction the logo could go.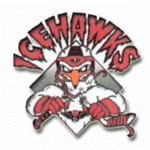 But I don't think anyone would have expected the replacement to be quite this good. I'm not going to put it up there with the all-time great logos, but you could do so, so much worse (check out the Adirondack IceHawks logo to the left if you don't believe me). All in all they did quite well.
The condor, for example, actually looks reasonably like a condor. At least I think it does. It suddenly occurs to me that I have no idea what a condor looks like, and I can't find where my wife is keeping her Audubon guides right now. But it looks like something that could conceivably be a condor, so I'm going to give them the benefit of the doubt since I'm too lazy to go to the library just to look at a picture of a condor.
There is room for improvement, though. First, there's that goofy "Condors Bakersfield" on the logo. Second, there's the hockey stick the condor is perched on. I readily concede that having just admitted I've no idea what a condor even looks like, I can't claim to have ever seen one and thus can't claim to know much about their habits and habitat. But unless their habitat is the Staples Center in Los Angeles, I don't think there are many hockey sticks lying about for them to perch on.
But the most disturbing thing is the concentric circles he's perched in front of. Where I come from, this is what is referred to as a "target". Aren't condors endangered? They must be; last I checked pretty much all birds of prey were endangered. (I don't think they even count them anymore. I think the conservationists get together and one of them says, "What about the red-tailed hawk?" "Is it still a bird of prey?" the second conservationist asks. "Yes," says the first. "Well, then, it's still endangered, now, isn't it?" comes the reply. The possibility that it has moved from endangered to extinct doesn't enter anyone's mind, because the battle loses a certain urgency once it's already been lost.) So the team is apparently encouraging hunting endangered species. I disapprove of that on a philosophical level. My disapproval has to remain on a philosophical level, of course, because I can't claim I'd miss the condor if it went extinct when I've never even seen one (it's not like I'd actually be seeing fewer of them if they became extinct) but I still don't like it. If you're going to encourage the wanton killing of an animal, it should at least be one everyone thinks we'd be better off without, like a termite or a mosquito or the members of Creed.
Still, issues of political incorrectness aside, it's a pretty decent logo. I'll quit making fun of it if the team will promise not to change its name back to the Fog and resurrect that awful logo.
Final Score: 17 points.
Penalties: Name-Logo, 2 pts; Equip=Logo, 5 pts; Colorful, 13 pts.
Bonuses: Local, -3 pts.
---
This page Copyright ©2004 Scott D. Rhodes. All rights reserved