| | | |
| --- | --- | --- |
| | Texas Brahmas | 593 |
---
Notice: All logos on this page are included within the parameters of 17 U.S.C. § 107, which states that the reproduction of a copyrighted work for purposes of criticism and/or comment is not an infringement of copyright. No challenge to the copyrights of these logos is intended by their inclusion here.
---
Posted 2008 March 22
Previous review posted 2006 January 19
Holy shit. They broke my scoring system.
Previous to now, the highest score that any team had managed was 148, earned by the Anchorage Aces of the WCHL (today's Alaska Aces of the ECHL). They earned that in part due to a setuply-egregious (that's egregious seven times, in case you're wondering) Equip-Logo penalty for a hockey player in a short-sleeve jersey with a red puck. That penalty alone was worth 85 points.
At the time I was convinced that was a penalty that would never be matched. Boy, was I wrong.
After a return from suspended operations, the once-Fort Worth Brahmas are now using "Texas" as their geographic moniker. The reason the team gives for the name change is that they no longer play in Fort Worth, having moved to a new arena in North Richland Hills. Considering the fact that North Richland Hills is a suburb of Fort Worth, I'm not buying it, but that's another issue. The main issue here is the "Regional" penalty. A close reading of the rules reveals two things:
The penalty is "[a]utomatically egregious if the region in question is a state.
The penalty is "doubly egregious for older teams in the same league in the same region"
"Texas" is, of course, a state, so that's one egregious penalty. And since the name "Texas Brahmas" is debuting this season, any other CHL teams in Texas are "older" even if they debuted after the Forth Worth Brahmas did, and thus add two levels of egregiousness (egregiosity? egregiety?) to the penalty.

There are six other CHL teams in Texas: the Amarillo Gorillas, Austin Ice Bats, Corpus Christi Rayz, Laredo Bucks, Odessa Jackalopes, and Rio Grande Valley Killer Bees. That works out to thirteen levels of egregiousness. That penalty alone is worth a staggering 584 points. First of all, I'm not even sure what to call that. With the Aces I didn't have this problem — I know that the word for seven times over is "septuple". What's the word for thirteen times over? I'm guessing it's "tredecuple", assuming a word even exists for it, but I'm definitely going to have to check a dictionary before I finish this review to find out. (Note added later: Turns out the correct word is "tredecaple", not "tredecuple". I thought I'd mention that just in case there are any high school juniors getting ready for their SATs.)

Keep in mind, incidentally, that 584 is not their final score. That's just the score from this one penalty. We still have the penalties for the name in the logo and the anthropomorphized bull to consider.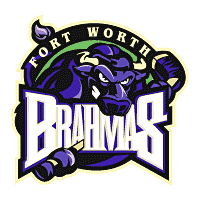 "Anthropomorphized?" you say. Yes. The current logo is the original Fort Worth Brahmas logo stripped away of some of its more problematic elements. The hockey stick and the hands holding it are gone, but looking at this logo makes it clear that the "shoulder" visible just to the viewer's left of the bull's face is actually an anthropomorphized bicep. So it gets the anthropomorphization penalty for that bicep. If that bothers you horribly, you can remind yourself that the eyebrows are also anthropomorphized, so they'd have gotten the penalty even without the bicep. But more importantly, if that bothers you horribly, you're taking this website ten times more seriously than I do and should probably take a deep breath and have a nice cup of herbal tea.
The frustrating part is that when the Forth Worth Brahmas switched to the current logo (which was a few years before they became the "Texas Brahmas"), I had actually believed that maybe, just maybe, I was making a difference. They got rid of the stupid hockey stick, and while they may not have gone to the effort to completely redraw the bull, they at least changed the logo enough that you had to know the history to understand that the bull was actually a minotaur. So maybe, just maybe, someone was listening to me. I really believed this. I was wrong.
There's one last thing I feel I should briefly comment upon, which is the unfortunate way "BRAHMAS" is written in the logo. Having the first and last letters be larger than the rest is hardly rare in logos — there's at least a dozen others who have done the same thing around today. But the middle letters are so much smaller and thinner in this logo that they quickly become hard to read. This means that from a distance, all you can see is "B——S". Not the most well-thought-out decision, eh?
Still, the fact that the name is in the logo is only two points. By my calculation this is going to account for slightly more than one third of one percent of the total score. That's just not a big deal in the grand scheme of things.
Final Score: 593 points.
Penalties: Regional (tredaceply-egregious), 584 pts; Anthropomorphization, 10 pts; Name-logo, 2 pts.
Bonuses: Local, -3 pts.
---
This page Copyright ©2008 Scott D. Rhodes. All rights reserved