| | | |
| --- | --- | --- |
| | Louisiana IceGators | 61 |
---
Notice: All logos on this page are included within the parameters of 17 U.S.C. § 107, which states that the reproduction of a copyrighted work for purposes of criticism and/or comment is not an infringement of copyright. No challenge to the copyrights of these logos is intended by their inclusion here.
---
Posted 2012 December 13
If there has been an overarching theme for the hockey logos I've reviewed this year, it's that several teams with terrible logos have replaced them with bad logos. That has been the case for the Las Vegas Wranglers; it has been the case for the Syracuse Crunch; if you count the old IHL team's logo, it has been the case for the Orlando Solar Bears. (It is not the case for the Pensacola Ice Flyers; their new logo is actually good.) And, as you can see here, it is the case for the Louisiana IceGators.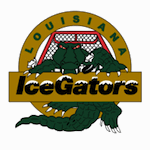 The previous logo, as you can see, had several issues with it. The color scheme made it hard to see exactly what was going on (particularly on a dark jersey). Once you finally did figure out what was going out, you could see that the position of the alligator was anatomically impossible, that the perspective of the net only made sense if you were viewing the logo from below the ice (which would require the alligator to be frozen in the ice), and that the font that "IceGators" was written in looked like something out of a 1,000-fonts-for-$9.99 CD. It failed on just about every level.
The new logo only fails on a few levels, so I guess we have to regard that as an improvement. The alligator itself is fine. The yellow tongue is obviously inaccurate, but just as obviously an acceptable concession to the team's color scheme. If anything else about the alligator is inaccurate, then I'd have to be more familiar alligators than I am or want to be in order to spot it. It's a properly menacing-looking alligator. If they had just left it at that, they'd have had a decent (if unremarkable) logo. The other items are where they blow it.
There's a minor problem with putting a fade effect in the word "IceGators", but that's forgivable. The real problem here is that stupid swooping puck. I'm not sure just what it is about it that drives me nuts, but something about it does truly drive me nuts. Maybe it's the fact that it's following an impossible trajectory. Maybe it's the way the puck has been deformed. Maybe it's just that I'm sick of seeing a similar effect with baseballs in the logos of independent league baseball teams. Whatever it is, it completely ruins the logo in my book. It makes an otherwise decent logo a bad logo.
But hey, it's still no worse than Las Vegas or Orlando or Syracuse, right?
Final Score: 61 points.
Penalties: Region (egregious), 5 pts; Ice, 9 pts; Compound, 13 pts; Software, 8 pts; Wordplay, 7 pts; Name-Logo, 2 pts; Equip-Logo, 5 pts; Fade, 6 pts; Yucky-Logo, 5 pts; Yucky-Name, 4 pts.
Bonuses: Local, -3 pts.
---
This page Copyright ©2012 Scott D. Rhodes. All rights reserved