| | | |
| --- | --- | --- |
| | Bowling Green Hot Rods | 30 |
---
Notice: All logos on this page are included within the parameters of 17 U.S.C. § 107, which states that the reproduction of a copyrighted work for purposes of criticism and/or comment is not an infringement of copyright. No challenge to the copyrights of these logos is intended by their inclusion here.
---
Posted 2016 July 16
I'm a bit of a latecomer to the world of appreciating a car's looks. Or its performance, for that matter. For much of my life, all I cared about with a car was that it would get me where I needed to go, be reasonably priced, and be in good enough condition that I wouldn't die if something crashed into me. Oh, and I wanted it to have a good stereo. No, seriously: I was more concerned with the stereo than how fast it could accelerate from zero to sixty. Still am, in fact. Most of my driving is city driving anyway (even when I get on the freeways around here, they're usually so congested that it's effectively city driving), so who cares how fast it can accelerate? But if I'm going to be in a car for an hour or two every day, I better be able to enjoy some good music.
And then one night I was channel surfing and stumbled across this bizarre show where someone was tying a pickup truck down on the beach at low tide so it would be completely submerged once the tide came in. I had no idea what was going on, but I had to find out. Turns out this was one in a series of tests to figure out just how tough this pickup was. Some of you may recognize this as an episode of Top Gear. For those who don't, I recommend going to Youtube and doing a search on "Top Gear Toyota Hilux". Suffice it to say you can't kill that mother. I don't want to give too much away, but I will say that the truck is impressively sturdy.
Anyway, that got me hooked on watching Top Gear. Other fans of the show know that it isn't so much a car show as a sketch comedy show cleverly disguised as a car show, but nevertheless, there's a lot of talking about cars. And it got me interested in cars. Sort of. I'm still not terribly interested in cars' performance, but I can at least appreciate the aesthetics of a good-looking car. Particularly a good looking classic car. No, I'm not talking about those hideous finned monstrosities from the Fifties; I honestly don't understand why anyone thinks those look good. But other classic cars (especially from the Thirties and Sixties) are quite nice, thankyouverymuch.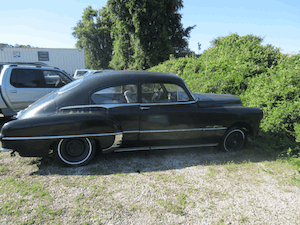 Related to that, for the past several years there's been an old car sitting outside a repair shop that I drive by every day on the way to work. It's an Pontiac 8 Silver Streak, and I've sort of fallen in love with it. It's actually from the very early Fifties, but in terms of style it looks more like a car from the Forties or even late Thirties than a car from the late Fifties. In my opinion, it looks totally gangster...literally. There's a somewhat famous photograph of the gangster Frank Costello getting into a car just after getting released from prison, and that car looks sort of like the Silver Streak. I'm not certain what the deal with the Silver Streak is — it's literally been in the same spot for at least four years, and probably longer than that. It's not in good condition, and I'm not sure it even has an engine, much less a working one. Nonetheless, one of my fantasies is buying it and getting someone to fix it up so that it's a drivable, practical(ish) car. This is never going to happen, and I know it. I don't care. It's like that lottery ticket you buy just for the fun of imagining what you'd do with the money, except that I don't even need to pay money for this. I just need to ogle the thing as I drive by every day.
Broadly speaking, that car is the sort of car that people like to make hot rods out of. (Just do a Google Image Search on "hot rod" and you'll see what I mean.) It's a very distinct style of car, the likes of which you just don't often see these days. So of course a team called the Bowling Green Hot Rods would have such a car in its logo, right?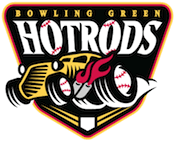 If I had done this review a year earlier, the answer would be yes. From their arrival in Bowling Green in 2009 until the end of the 2015 season, the Hot Rods (who, incidentally get their name from the fact that the plant that builds Corvettes and the National Corvette Museum are located in Bowling Green) used the logo you see to the right. It had issues, but all in all, it was a solid logo for a team called the Hot Rods. Now we get the stupid thing shown at the top of this page. Yawn. Come on, guys, this isn't hard. You're called the Hot Rods. Hot Rods look cool. Ergo, put a fucking Hot Rod in your logo! This "BG" monogram is just stupid. The only real nod the logo gives to the team name (aside from pinting the name itself in the bottom of the circle) is the flame effect on the tail of the G. Even that's not very well done: at first glance I thought it was a devil's tail like the tail of the J in the New Jersey Devils' logo.
The problem the team encountered becomes obvious when you hear what the team had to say about the new logo. General manager Adam Nuse was quoted as saying that it was a good look because it was "more modern".
If you've still got it open in another tab, go back to the Google Image Search of "hot rod". Scroll all the way down until you see "Show more results", and as you do so keep track of the number of cars you see that look like they were made in the 21st Century. An clumsy Shop Class teacher could count them on the fingers of one hand. The median year of the cars that come up is probably around World War II, and certainly before the Kennedy assassination. Simply put, hot rods aren't about modernity. They're about classics, if not outright antiques.
I'd love to have the opportnity to explain this to Mr. Nuse. But to do it properly, I think I need to show up in an example. Say, a suped-up Pontiac 8 Silver Streak. So if you want to help convince the Hot Rods to get a proper logo, do me a favor and send several thousand dollars my way. If enough of you do that, I can get that car done up properly, and I can make my case. Don't do it for me. Do it for the fans. Do it for baseball. Do it for America.
Or, hell, do it for me. I really want that car.
Final Score: 30 points.
Penalties: Letter, 24 pts, Logo, 12 pts.
Bonuses: Local, -6 pts.
---
This page Copyright ©2016 Scott D. Rhodes. All rights reserved