| | | |
| --- | --- | --- |
| | Boise Hawks | 25 |
---
Notice: All logos on this page are included within the parameters of 17 U.S.C. § 107, which states that the reproduction of a copyrighted work for purposes of criticism and/or comment is not an infringement of copyright. No challenge to the copyrights of these logos is intended by their inclusion here.
---
Posted 2018 June 2
Mark Twain once said that "Richard Wagner's music is better than it sounds." I must admit I have a similar opinion of this logo. It's better than it looks.
In theory, it's kind of a clever logo. Rather than seeing the entire hawk, we only see one of its feet. With some animals that would be silly (how intimidating does a dog's foot look?), but hawks' feet, with those talons, are pretty damn scary. And that foot is wrapped around a baseball in such a way that implies that this is a big damn hawk. After all, its foot is big enough that it can wrap its toes all the way around a baseball. A typical hawk can similarly wrap its toes around a human finger. I'm not sure how big a typical hawk is so I can't quite work out how big a hawk would have to be to be able to wrap its toes around a baseball, but suffice it to say that it's big enough that you hope you never see it. If it can grip a baseball like that it can probably grip your arms like that. In other words, there's a good chance this hawk could use those talons to pick up a human and carry said human back to its lair to feed to its chicks. You do not want to run into this hawk. So without actually showing a hawk (and remember, what you can't see is always scarier than what you can), it hints at a hawk that should scare the bejeezus out of us. That makes it a good logo.
But man, this is one ugly damn logo.
The problem isn't hard to figure out. It's the hideous color scheme. Red, orange, pale yellow, and dark green. With the possible exception of the orange and pale yellow, no two of those colors work well together. Put all four of them together and you have an unholy mess. Ergo, this logo is better than it looks.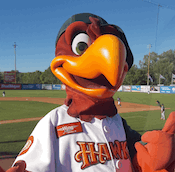 Now, let me go back a couple of paragraphs to my comment about how what you can't see being scarier than what you can. If you look to the left, you will see "Humphrey", the Boise Hawks' mascot. This, as you can see, is a big damn hawk. It's not inconceivable that a real hawk that size could wrap its toes around a baseball. And I don't know what you pictured while reading the second paragraph of this review, but I feel confident in saying it was more intimidating than this. Humphrey, as you can see, is some punk kid who thinks that wearing his baseball cap sideways is cool. Pictures I found online indicate he sometimes wears sunglasses, which helps about as much as you think it does. Are you scared of Humphrey? No, of course you aren't. That's because you take one look at Humphrey and you know that there's no way he's going to pick you up and carry you back to his lair to feed his kids. He's going to be in the nest himself, and while he's there he's going to spend all day watching TV and eating Doritos and texting his friends.
I'm sure whoever came up with this mascot idea was over the age of 30, and probably by a wide margin. I'm sure he thought it was a great idea. This should tell you two things. One, no one over the age of 30 has the slightest idea what is and isn't cool. Second, while some things may be better than they sound, others sound bad and are just as bad as they sound. The idea behind this logo is a perfect example.
Final Score: 25 points.
Penalties: Equipment, 13 pts; Logo, 12 pts.
Bonuses: None.
---
This page Copyright ©2018 Scott D. Rhodes. All rights reserved