| | | |
| --- | --- | --- |
| | Clinton Lumber Kings | 109 |
---
Notice: All logos on this page are included within the parameters of 17 U.S.C. § 107, which states that the reproduction of a copyrighted work for purposes of criticism and/or comment is not an infringement of copyright. No challenge to the copyrights of these logos is intended by their inclusion here.
---
Posted 2013 June 16
One of the trickiest things about reviewing baseball teams, as opposed to reviewing hockey teams, is figuring out just what the official logo is. With hockey it's easy: The vast majority of teams put their logo on the front of their jerseys and at center ice, and that's the only logo they have except maybe a variant that includes a wordmark. Not so with baseball. A team might have a logo on the front of their jerseys, or just the name of the team/city in script. The cap may feature a logo, or a letter or pair of letters. There may be a logo on the sleeve, or the sleeve may be unadorned. And some teams (for example, the New York Yankees) don't have their logo anywhere on their uniforms. The only definitive way I know to find every teams primary logo would be to call their office and ask them, and in all honesty I suspect in a lot of cases the person I talked to wouldn't be certain, either.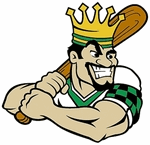 As best as I can determine, the nothing-but-script logo above is their primary one, which disappoints the hell out of me. This character to the right is apparently what they have on their caps, and man, could I have a field day with this guy. A previous version was even more entertaining, having a handlebar moustache instead of the vandyke and using a green two-by-four with a nail in it for a baseball bat. But no, I'm stuck talking about this lame third-grader's handwriting exercise of a logo.
I acknowledge that it does have a couple of things going for it. If you look closely, you can see that the name has a wood grain effect on it. And there's enough detail to show that the underline actually goes through the lower lip of the "g", as opposed to descending letters in most such logos where they overlap but there's no indication where they are in relation to each other in the third dimension. But you know as well as I do that I'm reaching for something to talk about here because this logo just isn't nearly as interesting as that other one.
The origin of the name, as you might guess, is local history. You may recall a few weeks ago I was commenting about towns whose nickname is the "[Insert Noun Here] Capital of the World. Well, for Clinton, Iowa, that noun was "Lumber". The trees were cut in Wisconsin and Minnesota, floated down the Mississippi River to Clinton, and cut into lumber. If you had the good fortune to be a mill owner in Clinton, you were likely to get very, very rich. At one time Clinton had more millionaires per capita than any other city in America, although whether this speaks to how many millionaires there were or how few non-millionaires there were is open to debate. But its glory days are clearly behind it, and about the only thing of note that's happened this century is that Flavor Flav tried to start a fast food chain there, and failed. That's probably why the team has a nickname that hearkens back to the 19th Century. It's not a terrible name, I suppose. Kind of bland, and not terribly creative (how many "_____Kings" teams are there in sports?), but not actually bad because it's too boring to actually be bad.
Maybe that's why they made the wordmark be the primary logo: because they wanted the logo to match the name in terms of creativity. If so, good job.
Final Score: 109 points.
Penalties: Software, 27 pts; Compound, 34 pts; Script, 7 pts; Equipment, 13 pts; Letter, 24 pts; Name, 10 pts.
Bonuses: Local, -6 pts.
---
This page Copyright ©2013 Scott D. Rhodes. All rights reserved