| | | |
| --- | --- | --- |
| | Everett AquaSox | 198 |
---
Notice: All logos on this page are included within the parameters of 17 U.S.C. § 107, which states that the reproduction of a copyrighted work for purposes of criticism and/or comment is not an infringement of copyright. No challenge to the copyrights of these logos is intended by their inclusion here.
---
Posted 2017 April 30
There is little need for what I do to come anywhere near the realm of fact-checking. Most team names are, after all, metaphorical. The Minnesota Vikings are not claiming to actually be seafaring Norwegians. The San Francisco Giants are not claiming to actually be twelve feet tall. The Atlanta Hawks are not claiming to actually be birds. The Los Angeles Angels are not claiming to actually be in Los Angeles. And so forth.
But sometimes the name the name seems like the sort of thing that can be parsed on a literal level. A lot of the players on Montreal's hockey team really are from Canada. Most if not all of the players on New England's football team are from the United States and most of them probably do love their country. Some names fall into a bit of a grey area — it's not ridiculous to think that all of the players on Seattle's baseball team spend a lot of time on boats, but it's not an obviously ridiculous claim.
But sometimes, the teams seem to be making literal claims, and their lying. Most players on Rochester's minor league hockey team are not, in fact, American. The Chicago White Sox don't actually wear white socks (their socks are black). The Oakland Athletics, if their record is any indication, aren't that athletic.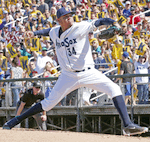 And then there's these guys. Like the Chicago White Sox, they're lying about their sock color. Not a big deal, of course, but why? In Chicago's case the team is over a century old and has gone through enough rebrandings and redesigns that wearing socks a different color from what their team name says isn't even the strangest thing they've ever done (one word: shorts). Back when the name debuted, the team really did wear white socks. But the Everett AquaSox are nowhere near that old, and I'm unaware of any evidence that they ever did wear aqua socks. Apparently the "aqua" comes from the fact that it rains a lot in Everett. It doesn't actually rain that much in Everett, but it is cloudy a lot so it probably seems like they get more rain than they actually do. (To be fair, lots of nearby areas do get a lot of rain, there's just a lot of funky microclimates in the Pacific Northwest.) So basically, the name has never really made sense.
And then there's the logo. I just— dear god. It's not just that the frog has nothing to do with socks of any color, or that his feet are orange, about as far on the color wheel as you can get from aqua. It's the way it's dangling its tongue under that baseball. A psychedelic-colored frog dangling its tongue under a baseball. Between the blatant drug reference and the blatant sexual reference, I just don't even know what to say. How do I— you know what? Screw it. I'm out of here.
Final Score: 198 points.
Penalties: Sox, 20 pts; Software, 27 pts; Equipment (egregious), 27 pts; Colorful (egregious), 63 pts; Irrelevance, 39 pts; Name, 10 pts; Logo, 12 pts.
Bonuses: None.
---
This page Copyright ©2017 Scott D. Rhodes. All rights reserved