| | | |
| --- | --- | --- |
| | New Hampshire Fisher Cats | 24 |
---
Notice: All logos on this page are included within the parameters of 17 U.S.C. § 107, which states that the reproduction of a copyrighted work for purposes of criticism and/or comment is not an infringement of copyright. No challenge to the copyrights of these logos is intended by their inclusion here.
---
Posted 2016 June 11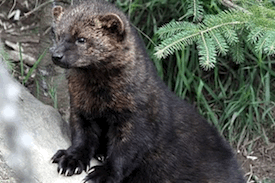 For those of you who don't know (and I didn't until I looked it up), there really is such thing as a fisher cat. But it's not a cat. Yeah, I know, but I didn't name the thing. A fisher cat is a type of mustelid (a family of animals including weasels, badgers, ferrets, and so forth), and is most closely related to martens. As you can see to the left, they're cute as the dickens, but they don't look like cats. But hey, folklorists think that legends about mermaids got started when sailors saw seals and mistook their faces for the faces of women. Confusing this little cutie-pie with a cat is nothing compared to that.
Not only are fisher cats not cats, they're also not fishers, from what I could find. What I mean by that is they don't eat fish. They tend to eat hares, porcupines, and various rodents, along with mushrooms and fruits for variety. How they ever got the name fisher cat is beyond me. I would gu—
WAIT A SECOND. WHAT DID I JUST WRITE?
They eat porcupines.
THEY EAT PORCUPINES.
THEY EAT MOTHERFUCKING PORCUPINES.
THEY EAT MOTHERFUCKING PORCUPINES, MOTHERFUCKER.
HOLY FUCKING SHIT.
I KNOW. I'M WRITING IN ALL CAPS AND SWEARING A LOT. I'M SORRY, BUT YOU'LL HAVE TO GIVE ME A MINUTE. I'M HAVING A FUCKING EPIPHANY HERE. THERE'S A CUTE LITTLE ANIMAL THAT EATS MOTHERFUCKING PORCUPINES. MY ENTIRE WORLDVIEW HAS BEEN TURNED ON ITS EAR. HOLY. MOTHERFUCKING. SHIT.
You know what, that's just awesome. I mean that in the literal, original sense of "inspiring awe". This animal gets hungry, looks at a damn porcupine, and says to itself, "I'ma kill that son of a bitch and then I'ma eat it!" And it does. It fights a porcupine, it wins the fight, it kills the porcupine, and then it eats that son of a bitch. You remember that video of the honey badger from a few years back? To hell with the honey badger. Honey badger does give a shit compared to this badass. I'd say that fisher cat is out of fucks to give, but that implies he had some and ran out. I'm guessing this little bastard never had a fuck to give in his entire life. I think an evolutionary mutation removed the fucks-to-give gene from the entire species back when they first diverged from martens. For all I know that's the difference between fisher cats and martens: the latter still have their fucks-to-give gene and the former don't.
You know, when I first started preparing for this review, I thought I was dealing with a lame name and a lame logo. I thought "Fisher Cats" was a silly, made-up compound word, and I thought the creature in the logo was the worst-drawn cat I'd ever seen. Oh, how wrong I was. Now I get it. This is not a lame name. It is one of the greatest names any sports team has ever had. And as for the logo, I now see that it's not a poorly-drawn cat but a well-drawn fisher cat. Furthermore, the fisher cat has a look on its face that says it's about to fuck you up, bad. I'm not even going to complain about the baseball in the logo, because I don't want to piss this thing off. Leave me alone, little fisher cat. I'm harmless, and not that tasty. I'm sure there's a porcupine nearby that would be much more delicious. Go attack it instead.
Please?
Final Score: 24 points.
Penalties: Region (egregious), 17 pts; Equipment, 13 pts.
Bonuses: Local, -6 pts.
---
This page Copyright ©2016 Scott D. Rhodes. All rights reserved