| | | |
| --- | --- | --- |
| | Southern Maryland Blue Crabs | 21 |
---
Notice: All logos on this page are included within the parameters of 17 U.S.C. § 107, which states that the reproduction of a copyrighted work for purposes of criticism and/or comment is not an infringement of copyright. No challenge to the copyrights of these logos is intended by their inclusion here.
---
Posted 2017 May 27
This team name amuses me more than it probably should. See, many years ago I ran a fantasy hockey league. My own team in the league was called the Washington Crabs. So in some ways this team is using the same name as my fantasy team. Okay, so they call themselves "Southern Maryland" instead of Washington; they're still pretty close to D.C. (it's less than twenty-five miles from home plate to the White House). And they say "Blue Crabs" instead of just "Crabs", but I was thinking of blue crabs when I came up with the name (a point which should be obvious if you know anything about the area; the Chesapeake isn't renowned for its stone crabs, after all). So: basically the same name, basically the same team.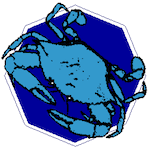 But a much better logo. I don't think my logo was bad, but it's nothing compared to the Blue Crabs logo. Seriously, I just love it. It has a distinct style. It looks intimidating. And you take one look at it and know what it is. It's not just that you know it's a crab. If you know what different types of crabs look like, you know this is specifically a blue crab. (For those of you who don't know what different types of crabs look like, just trust me. And incidentally, yes, blue crabs really do have red claws.) If I was still running my fantasy league, I would totally be stealing Southern Maryland's logo and modifying it to make a new logo for my team.
The one problem with this team is, of course, the "Southern Maryland" moniker. But I understand why they use it. There's already a major league team in Washington, so there's no benefit to be gained from calling this team the "Washington Blue Crabs". In fact, there are several minor league clubs in the D.C. area as well: the Eastern League's Bowie BaySox are just a bit east of D.C., and no farther from Waldorf (where the Blue Crabs play) than the Nationals are. The Carolina League Potomac Nationals (in Woodbridge, Virginia) are even closer than the Washington Nationals are. The Cal Ripken Collegiate League has nearly a dozen teams scattered from the the Virginia suburbs to Baltimore. So with all those baseball teams in the area, the Blue Crabs need to carve out a specific niche within the larger region as their own. "Southern Maryland" is generally understood to refer to the three southernmost counties on Maryland's Western Shore, so it's a well-defined term...and conveniently, it's a well-defined term that doesn't include any of the other teams in the region. And "Waldorf" may be meaningful to people in the immediate vicinity, but nobody in the rest of the league is going to have any clue where that is.
So we'll let the geophraphic moniker slide. And there's nothing to complain about with the nickname or logo. I'll just say this is a really strong job and leave it at that. And no, I'm not just saying that because their name is so close to a fantasy team I used to run. That would be lame on my part...almost as lame as running a fantasy league in the first place.
Final Score: 21 points.
Penalties: Region, 8 pts; Colorful, 31 pts.
Bonuses: Logo, -12 pts; Local, -6 pts.
---
This page Copyright ©2017 Scott D. Rhodes. All rights reserved