| | | |
| --- | --- | --- |
| | Bakerfield Condors | 4 |
---
Notice: All logos on this page are included within the parameters of 17 U.S.C. § 107, which states that the reproduction of a copyrighted work for purposes of criticism and/or comment is not an infringement of copyright. No challenge to the copyrights of these logos is intended by their inclusion here.
---
Posted 2015 December 17
The Bakersfield Condors are making their AHL debut this year. This is the third league they have played in. They started in the West Coast Hockey League in 1995, and played in that league until it was absorbed by the East Coast Hockey League (which promptly renamed itself simply the "ECHL" to avoid the absurdity of the East Coast Hockey League having teams in California and Alaska) in 2003. They then played in the ECHL until this past summer, when the "West Side Story" resulted in the Edmonton Oilers moving the Condors up to the AHL. (There was some shuffling of franchises involved, but most fans don't really care about that.)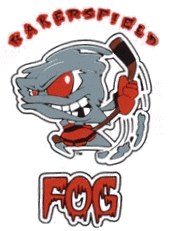 The team was originally known as the Bakersfield Fog, and as you can see the Fog were a serious contender for "worst logo ever". The main reason the Fog never held the highest score here on the Bush League Factor is that they changed their name before I actually started the BLF. It was in 1998 that the team switched its name to the Bakersfield Condors.
The original Condors logo was essentially the same as this one, only with a different color scheme and with a circle that said "Bakersfield" in the background. I have to say that I'm glad they got rid of the circle. It looked disturbingly like a target, and condors are an endangered species. I can't say I approve of the implications. On the other hand, I'm not a fan of the new color scheme. I understand why they went with it: they're matching their parent team's color scheme. But there's a problem with matching their parent team's color scheme, which is that their parent team's color scheme is ugly. I've never been a fan of orange and blue. For that matter, I've never been a fan of orange and any other color, or even orange by itself. But orange and blue is particularly bad.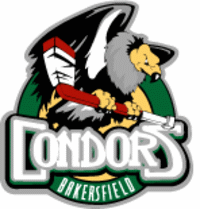 I'm not alone on this. An article I found online shows that of the ten "basic" colors (black, blue, brown, green, grey, orange, purple, red, white, and yellow), more people choose orange as their least favorite than any other color. In fact, when you combine orange with brown (and brown is just a dark shade of orange), over half of all people choose it as their least favorite. Blue, on the other hand, is the most popular color, with just under half of all people choosing it as their favorite, and less than one percent choosing it as their least favorite. And that's the problem here: the Oilers are pairing many people's favorite color with their least favorite. Are you familiar with Schopenhauer's Law of Entropy? It goes like this: Pour a teaspoon of wine into a barrel of sewage and you have a barrel of sewage. Pour a teaspoon of sewage into a barrel of wine and you have a barrel of sewage. Color-wise, the Oilers are mixing wine with sewage. It doesn't matter what the proportions are, the result is sewage. The Oilers have a sewagy color scheme, and now so do the Condors.
Aside from the color, though, I do like the logo. I could do without the hockey stick the condor is perched on, but the condor is certainly well drawn. It's drawn quite realistically, and the artist did a good job of making the condor look menacing without going overboard with it. When I look at the old logo, I think to myself, wow, that's a darned good logo.
Then I look at the new one, and I just sigh.
Seriously, guys, orange and blue just sucks. Fix it.
Final Score: 4 points.
Penalties: Name-Logo, 2 pts; Equip-Logo, 5 pts.
Bonuses: Local, -3 pts.
---
This page Copyright ©2015 Scott D. Rhodes. All rights reserved