| | | |
| --- | --- | --- |
| | Charlotte Checkers | 34 |
---
Notice: All logos on this page are included within the parameters of 17 U.S.C. § 107, which states that the reproduction of a copyrighted work for purposes of criticism and/or comment is not an infringement of copyright. No challenge to the copyrights of these logos is intended by their inclusion here.
---
Posted 2008 November 24
Some sports names sound good only because we grew up with them. "Toronto Maple Leafs", for example. If you've grown up a hockey fan, you've been hearing about the Toronto Maple Leafs your entire life. You don't think there's anything wrong with it. It's normal to you. But then one day, you stop and think about it: This team is named after part of a tree. This is a dumb name.
You fight it at first. There's the symbolism of it, you say to yourself. It's a reference to Canada, and what Canadian wouldn't be proud of his Canadian heritage? (Roughly half of Québec, but that's another matter.) But no. In the end you can't justify it. After all, "Philadelphia Eagles" isn't a good name because the eagle is an American symbol. It's a good name because eagles are vicious bastards that will carry you off and eat you if they get the chance. Maple Leafs are not vicious bastards. They are food for worms. "Toronto Maple Leafs" is not a good name.
There are other examples of this in the other sports. The Chicago Cubs. The Green Bay Packers. The New York Knicks. You haven't thought about these name in years, maybe decades. But if you stop to think about it, you realize how silly they are.
"Charlotte Checkers" is my own personal version of this. Literally one of my earliest memories is from a Charlotte Checkers game. It never occurred to me that there was anything wrong with the name. But now I realize there is. I realize that it's really not a good name at all. It's named after a game piece. It would be right at home in a league with names like the Memphis Marbles, the Pensacola Playing Cards, and the Richmond Little Race Car Monopoly Pieces That My Brother And I Always Fought Over When We Were Kids But He Always Got It Because He Was Bigger Then Me And Could Beat Me Up So I Was Always Stuck Playing With The Stupid Thimble.
Of course, the team has been doing its damnedest for years to make me realize what a bad name "Checkers" is. One way to tell that a name isn't good is to look at the logos that can come from it. A good name should be able to lead to a good logo. With this, the fourth logo ever used by a team called the Charlotte Checkers, it simply can not be denied anymore. You can't make a good logo out of this name.
This entry isn't the worst logo the Checkers have ever had. In fact, it may actually be the best. Of course, the word "best" in this instance is much like the word "best" when used in the sentence "Obsessive-Compulsive Disorder is the best mental illness to suffer from." It says more about the alternatives than about the item itself.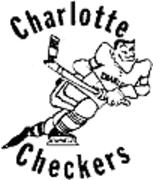 If it's any indication, the logo to the right is, by my reckoning, the only competition the current logo has for best Charlotte Checkers logo ever. This is the logo used by the original Charlotte Checkers. The logo is off-balance, the hockey player has a hopelessly cheesy expression on his face, and the relative height of the two skates indicates either that the right foot is skating on air several inches above the surface or that the left foot fell through a hole in the ice. Oh, and there's not a checker in the logo. But there's not a bear in it, either, which is more than you can say for any of the ECHL Checkers' logos.
To this day I have not figured out why the current team has this fascination with bears. There are no bears in Charlotte. Given the fact that Charlotte is a major banking center, it seems an inappropriate mascot for the team to adopt (an accurate one in the current economic climate, perhaps, but still not an appropriate one.) It doesn't match the mascots of other teams in the city (a panther and a bobcat). Simply put, it makes no sense. And yet the bear has survived two total redesigns of the logo, both of which have been accompanied by at least a partial change of team colors.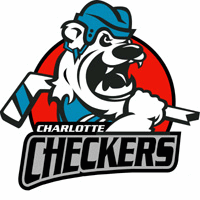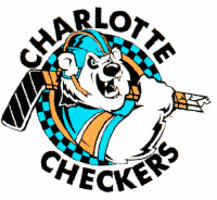 In any case, this logo does have one quality that none of the others had, which is that it would at least be a decent logo if the team had a different name. If the team was the Charlotte Bears, this would be a good logo. The previous two were just bad no matter what. But the bear in this one actually looks good, and the skyline (yes, those building really are in Charlotte) is good, too. The pizza-slice shape of the background is odd, but not really a problem.
So, what to do? I'd suggest making a good logo for that name, but as I said, I now realize that's impossible. So let's keep the logo and come up with a good name for the logo. I wouldn't recommend Charlotte Bears since there's already a team in Hershey called the Bears, but Charlotte Polar Bears would work. Changing the name to match the logo may seem bass-ackwards, but what's the saying? If it seems bass-ackwards and it works, it isn't bass-ackwards? Okay, maybe not, but that saying still makes more sense than putting bear after bear in a logo for a team named "Checkers", so there.
Final Score: 34 points.
Penalties: Action, 3 pts; Alliteration, 2 pts; Irrelevance (egregious), 21 pts; Name-Logo, 2 pts; Obvious, 6 pts.
Bonuses: None.
---
This page Copyright ©2008 Scott D. Rhodes. All rights reserved