| | | |
| --- | --- | --- |
| | Grand Rapids Griffins | 10 |
---
Notice: All logos on this page are included within the parameters of 17 U.S.C. § 107, which states that the reproduction of a copyrighted work for purposes of criticism and/or comment is not an infringement of copyright. No challenge to the copyrights of these logos is intended by their inclusion here.
---
Posted 2015 October 22
Twenty years is a long time for a logo to survive in minor league hockey. Hell, twenty years is a long time for a team to survive in minor league hockey, and most teams that do survive that long change their logos once or twice in that time frame. The median age of a minor league hockey logo right now is eight years. To my knowledge, the only current logos more than twenty years old are the those of the Chicago Wolves, Fort Wayne Komets, Providence Bruins, and Rochester Americans. You get the idea.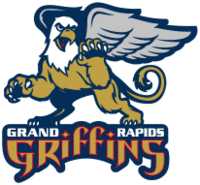 I mention all this because this year is the twentieth season of the Grand Rapids Griffins, and for the first nineteen they used the logo to the right. It was literally the best logo on the Bush League Factor according to the scoring system, with a score of negative five. And in my opinion, it didn't look dated at all. It was a timeless logo, and I think they could have used it forever and it would never have gone out of style.
But the people at the team felt differently, and decided it was time for a change. I don't necessarily blame them for that; sometimes it works to fix something that isn't broken. But I'm not so sure that this is one of those times. The old logo worked because it looked exactly like griffins are described as being: creatures that have the body of a lion and the head and wings of an eagle. The new doesn't quite look like that. The head looks like an eagle's head, and the wings look good enough, but the body doesn't really look like a lion's body. The arms look like — well, I said it right there, didn't I? The arms can't possibly look like lions' arms, because lions don't have arms. This creature's forelimbs look suspiciously like a human arm, with the bicep having a distinctly human shape and also coming out of the shoulder at an angle that simply doesn't happen with quadrupeds. Also, there's the opposable thumb. The old logo had an opposable thumb, but everything else looked so lion-like that I let that slide. But when put at the end of those limbs, they just strengthen the impression that those limbs are arms, not legs. One could argue that I have no evidence that this isn't what a griffin's forelegs look like. But I think I do have evidence. Griffins are described as having the body of a lion. That is not the body of a lion. QED.
There's also the issue of scale. See those buildings the griffin is towering over? I've looked at the Grand Rapids skyline, and one of those buildings is about twenty-five stories tall. That griffin must be a thousand feet tall or more. Greek myth doesn't specify the size of a griffin, but I doubt the idea was ever that they're that big.
Mind you, this isn't exactly a bad logo. It's not some cartoony hockey player with an eagle's head and lion's legs. It doesn't look goofy or silly. But it's not as good as the old logo. And it's not as timeless as the old logo. I can understand the desire for change, but when you decide to replace something as good as the old logo was, you need to make damn sure you replace it with something as good. The Grand Rapids Griffins failed to do this.
Final Score: 10 points.
Penalties: Alliteration, 2 pts; Anthropomorphization, 10 pts; Name-Logo, 2 pts.
Bonuses: Cool-Name, -4 pts.
---
This page Copyright ©2015 Scott D. Rhodes. All rights reserved