| | | |
| --- | --- | --- |
| | Greenville Swamp Rabbits | 54 |
---
Notice: All logos on this page are included within the parameters of 17 U.S.C. § 107, which states that the reproduction of a copyrighted work for purposes of criticism and/or comment is not an infringement of copyright. No challenge to the copyrights of these logos is intended by their inclusion here.
---
Posted 2015 November 19
There is a curse over the city of Greenville, South Carolina.
It's a fairly mild curse as such things go. It's not as bad as, for example, the Indian city of Bhangarh, where legend has it that thousands of people were killed for offending a holy man (their offense, according to legend, was building a palace that was taller than the holy man's house, which seems like a petty reason but nobody asked me). It's not as bad as Vineta, a legendary city on the shores of the Baltic which was destroyed by a flood because the people were so blasphemous. Greenville even gets off light when compared to Nacotchtank, a native American village at the mouth of the Anacostia River, where legend has it that fleeing native Americans cursed the land so that the Europeans who drove them out would "be harried for evermore by the most obnoxious among you, who shall gather here from all across the continent solely to torment you". But a curse is a curse, no matter how small.
Greenville is cursed to never have a hockey team whose name and logo aren't ridiculous.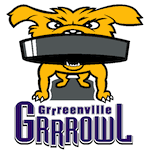 The first evidence of this curse arrived in 1998 as the "Grrreenville Grrrowl". Naming your team after a sound effect is never a good idea, and making a dog that looks like it could fit in a coin purse the centerpiece of your logo is even more foolish. A few years later they modified this logo by getting rid of everything below the puck except for the name; obviously this just made the logo that much more ridculous. The Grrrowl lasted until the summer of 2006.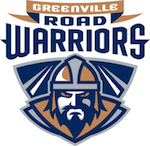 Then in 2010, the Johnstown Chiefs, the last original ECHL franchise still playing in its original location, moved to Greenville to become the Rrroad Wa— er, Road Warriors. The team, in other words, went from being named after the greatest hockey movie of all time to being named after a movie that had nothing to do with hockey. The logo, meanwhile, didn't look so much like a road warrior as it did an oxcart warrior, as oxcarts were the apex of technology when people looked like this guy.
Now the Road Warriors have decided it's time for a name change, but Greenville is still under this curse, so we're stuck with the "Swamp Rabbits". Now, for the record, at least swamp rabbit isn't some made up term. The swamp rabbit is a particular species of rabbit (Sylvilagus aquaticus) found in many parts of the south, although their range just barely enters into South Carolina and doesn't reach as far as Greenville. Supposedly the city picked the name because the Greenville and Northern Railroad, which ran between Greenville and Travelers Rest (less than 10 miles/15km away) was nicknamed the "Swamp Rabbit". The name gets used a fair amount in Greenville (business in town include Swamp Rabbit CrossFit and Swamp Rabbit Cafe and Grocery; there's an annual race called the Swamp Rabbit 5K; the alignment of the railroad itself is now a running and biking path called the Swamp Rabbit Trail), so I suppose it's a reasonably local name.
You know what? Now that I think about it, I'm actually sold on the name. I'll take back what I said about Greenville being cursed to have bad team names. Swamp rabbits may not be the most ferocious animals in the world, but they did manage to frighten a president once, and they're certainly not the least ferocious animal that currently has a hockey team named after them (I'm looking at you, Toledo Walleye). I don't often change my mind about a name in the middle of writing a review, but I just did.
I haven't changed my mind about the logo.
I'm tired of JACKALs in general, and this one has a few elements to heighten the absurdity. They way the rabbit's left arm is drawn in clearly meant to imply it has lots of muscle, but it's done in such a way that makes it look like the rabbit has two elbows. The mutant carrot/hockey stick (rabbits aren't actually fond of carrots, by the way) speaks for itself. The way the shoots are colored grey instead of green makes it look like the carrot is firing a bullet out the back, or maybe like it's farting. And the rabbit is grabbing either the bullet or (worse yet) the fart.
In other words, the team may have a good name now that I think about it, but the curse lives on. The city really needs to find whatever holy man lives in town build him a taller house.
Final Score: 54 points.
Penalties: Cartoon, 17 pts; Anthropomorphization, 10 pts; Name-Logo, 2 pts; Equip-Logo (quadruply egregious), 25 pts.
Bonuses: None.
---
This page Copyright ©2015 Scott D. Rhodes. All rights reserved