| | | |
| --- | --- | --- |
| | Jacksonville Icemen | 75 |
---
Notice: All logos on this page are included within the parameters of 17 U.S.C. § 107, which states that the reproduction of a copyrighted work for purposes of criticism and/or comment is not an infringement of copyright. No challenge to the copyrights of these logos is intended by their inclusion here.
---
Posted 2017 November 2
Note: This review borrows heavily from a review for the Evansville Icemen (who used the same logo), which in turn borrowed heavily from a review for the Corpus Christi IceRays (who didn't). So if you're reading this and thinking "this sounds very familiar", it's because it is.
I'm not really big into comic books. Not sure why, I just never have been. But I do have a passing familiarity with some of the better-known superheroes and villains, thanks in part to a circle of friends that includes numerous comic book geeks and in part to having watched various cartoon versions of superheroes. The first one I remember is the old Superfriends TV show from the 70s, which now that I think about it may explain why I never got into comic books. Admittedly, at the time I tuned in religiously every Saturday, so I must have enjoyed it. But looking back (and having seen an episode somewhat recently), I'm not sure why. In terms of "WTF?", a non-violent superhero cartoon ranks right up there with a non-violent Tom and Jerry cartoon. They did that in the 70s too, by the way. I remember when that one debuted. I was already a big fan of the Tom and Jerry because the local independent TV station showed their cartoons from the 40s every day when I got home from school. I was so excited when I found out ABC was going to start airing new ones. Then I saw them. That, dear reader, was my first experience with what would later come to be known as "jumping the shark". Even as a seven-year-old, I knew that those cartoons were an insult to a fantastic legacy. Fortunately, the networks eventually realized that kids were going to beat each other up even if you made them watch nothing but speeches by Mohandas Gandhi, and they started airing violent ones again. Kids today simply have no idea how good they have it.
Incidentally, my brother-in-law, who is deeper into comic books than any adult ought to be, has been raising his children to be superhero junkies just like him. They've watched the various Justice League and X-Men cartoons, seen the various Avengers movies, and so forth. Somewhere along the way my brother-in-law got the idea into his head that he should have his son (then around eight or nine years old) watch an old Superfriends episode. The following conversation happened about twenty minutes into it:
"Daddy?"
"Yes?"
"When are they gonna fight?"
"They're not gonna fight, son."
(Pause.)
"Are they just gonna stand there and talk?"
"I'm afraid so."
(Pause.)
"This is dumb."
"I know, but it's all we had when I was a kid."
I'm not sure why my brother-in-law subjected his son to SuperFriends. I don't think it was intended as a bonding experience. My only guess is that it was intended to demonstrate to his son that he had gone through the TV equivalent of having to walk uphill both ways in the snow every day to get to school.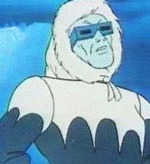 The reason I mention all this is because one of the comic book characters (in this case, a supervillain) that I became familiar with as a result of Superfriends was Captain Cold. And when I look at the Jacksonville Icemen logo, I immediately think of Captain Cold. If you don't, you must be even less into comic books than I am.
Like many minor league hockey teams, the Icemen have a mascot. If you've never been to one of their games, you might guess that their mascot looks like the man in their logo. That's a reasonable guess — but a wrong one. Their mascot is your standard, goofy-looking polar bear. Normally I complain about the proliferation of bears in minor league hockey, but this time I don't blame them. A mascot that looked like this guy would scare the children. He has a crazed expression on his face, and he looks like he's climbing out of an ice fishing hole. And of course, if he's climbing out of it, then he must have previously jumped into it. I'd point out that jumping into the water under the ice is crazy, but I don't need to point out that this guy is crazy. One look at his facial expression will tell you that this man is unhinged.
My best guess, based on what little I know about Inuit culture, is that he's suffering from a condition found among traditional Arctic peoples known as "piblokto". That's unfortunate. First, it means all the other men are going to laugh at him, because it's usually women who suffer from piblokto. Second, one of the symptoms of piblokto is coprophagia. That's really disgusting, but maybe it'll at least get the other men to stop laughing at him. I wouldn't laugh at a person doing that. I'd walk away, slowly, without turning my back. But I'm an adult. Kids, I think, would run for the nearest exit screaming. This is why I have no problem with the team not using this guy as a mascot. In fact, I think they shouldn't use him in the logo. I think they shouldn't use the name "Icemen", because apparently the inevitable result of a name like "Icemen" is putting shit-eating crazy bastards into your logo. We shouldn't do this. If not for our own sakes, then for the children. Won't someone please think of the children?
Final Score: 75 points.
Penalties: Ice, 9 pts; Compound, 13 pts; Cartoon, 17 pts; Name-Logo, 2 pts; Equip-Logo (quadruply-egregious), 25 pts; Yucky-Logo, 5 pts; Yucky-Name, 4 pts.
Bonuses: None.
---
This page Copyright ©2010-2017 Scott D. Rhodes. All rights reserved