| | | |
| --- | --- | --- |
| | Newfoundland Growlers | 2 |
---
Notice: All logos on this page are included within the parameters of 17 U.S.C. § 107, which states that the reproduction of a copyrighted work for purposes of criticism and/or comment is not an infringement of copyright. No challenge to the copyrights of these logos is intended by their inclusion here.
---
Posted 2019 February 1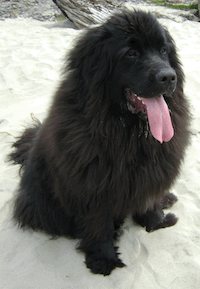 To the right you will see a picture of a Newfoundland, the breed the Newfoundland Growlers are named after. You may notice that this dog does not look particularly aggressive. That's because, from what I could find, Newfies typically aren't. They have a reputation for being very friendly dogs, to the extent that they are often referred to as "gentle giants". So trying to make this dog look intimidating, as the logo does, may be a mistake.
Or maybe not. After all, the second half of "gentle giant" is "giant". These dogs are freaking huge. A typical male might weigh 70 kg (155 lb), and weights of 90 kg (200 lbs) or more aren't uncommon. Friendly or not, that's a dog that's going to scare some people. Some people are going to take one look at a dog that big and think, "I better not piss this thing off or I'm dead." And while it's probably pretty hard to piss one of these things off that bad, if you did they could probably take you out without too much trouble.
In any case, I shouldn't criticize the logo designer for making the dog look a bit intimidating. Aren't logos supposed to have an intimidating element about them? Certainly I'll take this over a cartoon character every day of the week. And the dog isn't intimidating in an aggressive sort of way, just in a no-nonsense sort of way. This dog has a job to do. This dog is going to do this job. This dog is not going to let you stand in its way. If you try to get in this dog's way you will be flattened, but it's nothing personal. This dog has nothing against you. This dog simply has a job to do.
I haven't said much about the name yet, because I'm not nearly as fond of the name. Growlers. Meh. First of all, I've just spent three paragraphs explaining how Newfies aren't aggressive, and here they go and give the team a name that implies they are. That's just rude. Second, the name reminds me of the "Grrreenville Grrrowl" that played back in the 00's. That was a terrible name, and the Grrrowl had an even worse logo. I don't need to be reminded of that. Would it have been too lame to call the team the Newfoundland Dogs? Or how about the Newfoundland Newfoundlands? I kind of like that. It's ridiculous, except that then you look at the logo and think about the breed and realize there's absolutely nothing ridiculous about it.
Instead, we get the Newfoundland Growlers. Oh, well. It could be worse. Yes, I'm looking at you, Grrreenville.
Final Score: 2 points.
Penalties: Region, 3 pts; Alliteration, 2 pts.
Bonuses: Local, -3 pts.
---
This page Copyright ©2019 Scott D. Rhodes. All rights reserved