| | | |
| --- | --- | --- |
| | Orlando Solar Bears | 82 |
---
Notice: All logos on this page are included within the parameters of 17 U.S.C. § 107, which states that the reproduction of a copyrighted work for purposes of criticism and/or comment is not an infringement of copyright. No challenge to the copyrights of these logos is intended by their inclusion here.
---
Posted 2012 October 14
In 1988, fashion designer Alexander Julian designed the logo and uniforms for Charlotte's new NBA team, the Hornets. I now realize that it is still too early to forgive him.
You see, one of Mr. Julian's bright ideas was to give the team a color combination that wasn't being used anywhere else in sports. He did this by choosing two colors which were rarely used at all and had never been used together: teal and magenta. It was a bold move. Up to that point sports teams had generally stuck to the primary colors of red, blue, and yellow, with the occasional use of the secondary colors (green, purple, and orange) and the monochromes (grey and black). Other colors were quite rare. And here was a team using a color partway between green and blue, then combining it with a shade of violet that had rarely if ever been used before.
This proved to be a popular move. Too popular. Suddenly, teams all over the place were picking teal and/or magenta (often combined with black) as their new team colors. At one point it seemed half the teams were using at least one of those three colors, and more teams than I care to think about were using all three. Even some of the major league teams got in on the act: the San Jose Sharks and Jacksonville Jaguars, for example. In fact, in the first version of the Bush League Factor, there was no "color" penalty, but rather a "teal" penalty and a "magenta" penalty.
Fortunately, the trend died. Most of the teams that were using teal folded (I don't claim a causal relationship here; so did most of the teams that weren't), and most of the ones that didn't fold changed color schemes. As of last year, I think the only team left using both teal and magenta in its logo was the now-relocated New Orleans Hornets, the team who had started it all.
Until now.
This year, the ECHL has gained a team in Orlando, and this team has decided to resurrect the Solar Bears name. This was neither a good name nor a particularly historic one, although I suppose it's the closest thing to either they had ever had, since the IHL Solar Bears were Orlando's first hockey team and the only other one they ever had lasted just two seasons (that team was called the Seals...not a bad name, but it was part of that clusterfuck which was the 2002 ACHL and the WHA2, and most minor league hockey fans would rather not be reminded of either of those leagues). In addition to the Solar Bears name, the ECHL team is bringing back the old team colors, which were — you guessed it — teal and magenta.
I thought we had banished this plague. I really had. But here it is again, resurrected as irritatingly, as implausibly, and as inevitably as The Joker (who, come to think of it, wears colors that are fairly similar) every time he gets killed off in the comic books.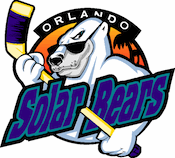 They are using a new logo, for which I am thankful. The old one was drawn to look like bear had a five o'clock shadow. As you can see, it was just as bad as you're imagining. This one just looks like an anthropomorphized bear who spends all day at the gym. Sadly, this is an improvement. Even though the bear is holding a teal and magenta hockey stick, this is still an improvement.
Hopefully, this won't be the start of another teal and magenta trend. If it is, I may have to hunt Alexander Julian down and break a hockey stick over his head. If I do, I'll be sure to use a hockey stick that's teal and magenta. Call it cosmic justice.
Final Score: 82 points.
Penalties: Compound, 13 pts; Wordplay, 7 pts; Cartoon, 17 pts; Anthropomorphization, 10 pts; Name-Logo, 2 pts; Equip-Logo, 5 pts; Colorful (egregious), 19 pts; Yucky Logo, 5 pts; Yucky Name, 4 pts.
Bonuses: None
---
This page Copyright ©2012 Scott D. Rhodes. All rights reserved