| | | |
| --- | --- | --- |
| | Pensacola Ice Flyers | 33 |
---
Notice: All logos on this page are included within the parameters of 17 U.S.C. § 107, which states that the reproduction of a copyrighted work for purposes of criticism and/or comment is not an infringement of copyright. No challenge to the copyrights of these logos is intended by their inclusion here.
---
Posted 2012 October 29
NOTE: Much of the early part of this review came from the review of the Ice Flyers' previous logo, partly because it's not directly related to the logo itself and partly because I really liked it and didn't want to get rid of it.
The history of Pensacola can be summed up in two words: "military" and "hurricanes". If you doubt this, consider this brief, yet comprehensive and occasionally accurate history of the place:
The first Europeans to settle in Pensacola (and incidentally, these were also the first Europeans to settle anywhere in what today is the continental United States) arrived in August of 1559. They were there for exactly five weeks when a hurricane came in and killed over 400 of them — nearly a third of the settlement. The remaining people wisely said to themselves "God doesn't want us here and is trying to kill us," and left. About a quarter of them headed to what today is Parris Island in South Carolina, where they were hit with another storm. At this point they said to themselves, "Okay, maybe the place has nothing to do with it...God just has it in for us." They scattered at this point, presumably hoping that would make it too complicated for God to come after them with weather. I'm guessing God just started resorting to heart attacks at this point, but the history books don't have much to say about this.
Meanwhile, Pensacola wasn't settled by Europeans again for over a century. Then the Spanish came back in 1698, and lived there happily until the French military occupied the area a quarter century later. The occupation lasted three years, at which point the French were driven out of the area by — you guessed it — a hurricane. The Spanish came back and promptly built a big statue to Our Lady of We Are So Thankful Someone Else Got Smote By A Storm For Once. This, they hoped, would appease God. God apparently decided this was good for thirty years of hurricane-free weather, because for exactly thirty years the Spanish were fine. Unfortunately, the Spanish neglected to erect another statue to Our Lady of We Still Love You God And Oh By The Way Please Keep Keeping Those Hurricanes Away, so God went back into "smite" mode and ravaged the city with a hurricane again in 1752, and then one more time in 1761 because they hadn't yet built the statue to Our Lady Of Oh Please God We Are So Sorry Here Have a Statue We Love You We Do We Really Do Please Stop Killing Us. Two years later the British took control of the city as spoils after defeating both the Spanish and the French in the Seven Years' War. The Spanish acted upset, but in reality they were thinking, "Fine! Take the stupid city! We hope you get hit by a hurricane next year!" Indeed, they were so happy to be rid of the place that when they were done helping the Americans win independence eighteen years later, they made the British give it back to them. On their way out, the British told the Spanish that there hadn't been any hurricanes lately and they were sure the Spanish would be safe there. The British then boarded ships and snickered all the way back to Portsmouth.
The Americans were of course more than willing to let Spain have Pensacola (and the rest of Florida), since they were grateful to Spain for helping them gain independence. They showed their gratitude by sending the American army into the area three times in the 1810s. The Spanish were too busy dealing with rebellions in Mexico and Colombia to be able to deal with puny little Florida, so in 1821 they gave it to the United States. Their parting words, according to the chronicles of the day, were "¡Diga hola a los huracanes para nosotros!" (translation: "Say hi to the hurricanes for us!") The Americans then built a navy yard and an army fort, which appears to have scared off the hurricanes for a little while.
Then in 1861, some Einstein over in Tallahassee saw how much fun South Carolina and Mississippi had had seceding, and decided to follow suit. The people of Pensacola, intoxicated with the joy of no longer being Americans, decided it was time for a fresh start and tried to chase all the hurricanes and all the military as far from Pensacola as they could. They succeeded in chasing the military a whole six miles away, to the army fort that had been built back when the Americans first took over. The Union soldiers then waited about sixteen months and then took the city back. They burned much of the city to the ground in the process, causing Pensacolans to say to one another, "Hey, do you remember the good old days when it was the hurricanes that caused all the damage around here? Yeah...good times!"
The military is still in Pensacola, although fortunately for the citizens the Civil War is over and the military isn't trying to burn the city down any more. Instead, the navy base is home to the Blue Angels, meaning that the military is now primarily engaged in the vital function of flying barrel loops.
It is therefore appropriate that the name and logo of this team reference both the military and hurricanes. The military reference is obvious: nothing says "navy" like a reference to flying. The reference to hurricanes may be a bit more subtle but it's there. What's the reference? This name blows.
I understand why they didn't go with the much simpler "Flyers" — that name is already taken by an NHL team. But "Ice Flyers" simply doesn't work. "Ice Flyer" sounds like a rejected name for a superhero (or maybe a name for a rejected superhero...or even a rejected name for a rejected superhero). I'm sure they could have come up with a better flying reference if they had sat down and thought about it for five minutes. I just thought about it for a couple of minutes and...okay, I didn't come up with any better, but I still have three minutes. Maybe I'll get back to it when I finish writing this.
(Added later: Angels. Pensacola Angels. Not the best name in the world but a damn sight better than Pensacola Ice Flyers.)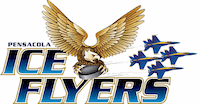 But at least their new logo (unlike their previous one, shown at the right) is good. It's your basic, no-nonsense logo: a plane, and a shield, and the name. Okay, there is a little bit of nonsense: if you look closely you can see two hockey sticks on the plane. But I actually like that. It's subtle, and they actually incorporated the sticks into the plane rather than just putting two crossed sticks behind the shield like most teams would have done. This is a major improvement. Whereas the old logo looked like the disorganized aftermath of a hurricane with random things just thrown together, this looks like the townsfolk have cleaned the city up. Now all we have to do is make certain nothing happens to this logo.
Maybe we should build a statue.
Final Score: 33 points.
Penalties: Ice, 9 pts; Compound, 13 pts; Name-Logo, 2 pts; Equip-Logo (egregious), 8 pts; Yucky-Name, 4 pts.
Bonuses: Local, -3 pts.
---
This page Copyright ©2012 Scott D. Rhodes. All rights reserved