| | | |
| --- | --- | --- |
| | Quad City Storm | 73 |
---
Notice: All logos on this page are included within the parameters of 17 U.S.C. § 107, which states that the reproduction of a copyrighted work for purposes of criticism and/or comment is not an infringement of copyright. No challenge to the copyrights of these logos is intended by their inclusion here.
---
Posted 2018 December 1
The last time I wrote a review for a hockey team in Quad City, I commented that it was the fourth time I'd done so because the city kept losing teams and getting new ones. And here we go again. This time, it's the Quad City Storm of the Southern Professional Hockey League. I'm not sure if they went with "Storm" instead of "Mallards" because they wanted to estabilsh a new identity or simply because they couldn't afford the rights to the "Mallards" name, but either way it's something different. Except, of course, that there's nothing different about this.
"Storm"? Seriously? How many times have we seen that used as a team name? Hell, just looking at the teams I've reviewed here, there's the Lake Elsinore Storm, Toledo Storm, and these guys. And for thematically similar names there's also the Omaha Storm Chasers, Brooklyn Cyclones, Cincinnati Cyclones, Twin City Cyclones, Adirondack Thunder, Stockton Thunder, Trenton Thunder, Wichita Thunder, Bloomington Prairie Thunder, Windy City Thunderbolts. Several of these teams have at one point or another used extremely similar logos, too. So there's no originality there, either. Of course, how much originality can there be when the logo is more infested with clichés than the new fall prime time lineup? Anthropomorphized weather phenomenon? Check. Missing teeth? Check. Weird combination of a hockey stick and some other object? Check.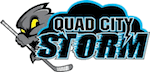 And here's the sad part. This is their second attempt. To the right you see the first attempt. They apparently looked at that and said, "You know, it'll do, but it doesn't really suck enough, does it?" Because the first attempt doesn't suck as much as the logo they settled on (which is not to say it doesn't suck). So they set out to make it even more craptastic, and...they succeeded.
Indeed, this isn't just success. This is overachievement. The next time someone tries decides to make their logo be the most god-awful logo around, they're going to have to try even harder thanks to this monstrosity. And you know someone's going to, right? That day is coming.
I hope it doesn't come soon.
Final Score: 73 points.
Penalties: Region, 3 pts; Singular, 6 pts; Cartoon, 17 pts; Anthropomorphization (egregious), 15 pts; Name-Logo, 2 pts; Eqauipment (quadruply-egregious), 25 pts; Yucky-Logo, 5 pts.
Bonuses: None.
---
This page Copyright ©2018 Scott D. Rhodes. All rights reserved