| | | |
| --- | --- | --- |
| | San Antonio Rampage | 5 |
---
Notice: All logos on this page are included within the parameters of 17 U.S.C. § 107, which states that the reproduction of a copyrighted work for purposes of criticism and/or comment is not an infringement of copyright. No challenge to the copyrights of these logos is intended by their inclusion here.
---
Posted 2007 December 25
This article is a rewrite of an article written 2004 December 8.
The San Antonio Rampage have some identity issues to deal with.
First of all, there's the name. Rampage. This is not a team for a hockey team; it is a name for a soccer team. Think about it. Look at the names of other teams in the AHL -- Springfield Falcons, Utah Grizzlies, Edmonton Roadrunners. These are standard, totemic names. "Rampage" is not. Not only is it a singular noun, it's also abstract. One can not touch a Rampage. It doesn't fit in with the Falcons and Roadrunners. But it does fit in with names such as the Los Angeles Galaxy, Columbus Crew, and New England Revolution.
Second, they've forgotten they're in Texas. Look closely at the logo. Show me where the Texan flag is, or the outline of Texas. Heck, there's not even a star in the logo. Sure, there's the obvious Texas theme in the name, but that's not enough. Aren't there laws about that? I was beginning to suspect it was in the general statutes for Texas that there must be at least once gratuitous reference for every minor league hockey team. Given Texas' sense of self-importance, I wouldn't be surprised to find reference to it in the state constitution, probably right after the part about not messing with Texas (I'm sure that's in the state constitution, too).
Not that I'm complaining, mind you. I'm very glad that a team in Texas finally figured out that everyone in town already knows what state they're in and nobody else cares. I wish other teams in that state could figure it out.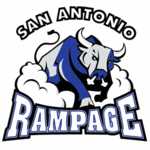 And it is a nice logo. It's not perfect, but it's got a lot going for it. The angular drawing of the bull gives it a bold look, and the clouds of smoke snorting out of the nostrils are a nice touch. (I do feel compelled to ask, however, when anyone has ever actually seen smoke come out of an actual bull's nose. And I thought smoking was too popular here in North Carolina.) The words "San Antonio" are a bit of a distraction, and some color other than grey would be nice. (It used to include this odd, purplish blue. I would prefer a plain old royal blue, but even the purplish blue would give it a little pizzazz). But all in all, I'll take it.
Final Score: 5 points.
Penalties: Singular, 6 pts; Name-logo, 2 pts.
Bonuses: Local, -3 pts.
---
This page Copyright ©2004-2007 Scott D. Rhodes. All rights reserved