| | | |
| --- | --- | --- |
| | Toledo Walleye | 65 |
---
Notice: All logos on this page are included within the parameters of 17 U.S.C. § 107, which states that the reproduction of a copyrighted work for purposes of criticism and/or comment is not an infringement of copyright. No challenge to the copyrights of these logos is intended by their inclusion here.
---
Posted 2009 November 7
A couple of weeks ago I got an e-mail from a reader alerting me to a disturbing development in Toledo. For years, the Toledo Storm were affiliated with the Detroit Red Wings, and the Storm fans threw octopuses on the ice the same way that Red Wings fans do. But with the Walleye, fans have started throwing Walleyes instead. As the reader commented, "How is throwing a dead item that is your team's symbol suppose to be good?"
Personally, I'm torn about this. On the one hand, I agree: it seems an odd way to celebrate your team scoring a goal. But the whole octopus thing always bothered me because octopuses are very intelligent animals. Throwing fish doesn't bother me as much, although it is kind of wasteful (although if the Dayton Gems did something like this, I'd be impressed). So I honestly don't know if this is better or worse.
Come to think of it, that's the way I feel about the Walleye logo compared to the Storm logo as well.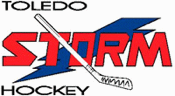 The logo for the Storm was bad. And I mean really bad. It was so bad that the team started profiting off of it. That's not a joke. They used to run ads bragging about how The Hockey News had rated them the worst logo in minor league hockey three years in a row. The next year they ranked second from the bottom, but the accompanying article actually explained that they had the points to rank worst for the fourth year in a row. The editors decided to bump them up a spot in order to deny them the ability to brag about being rated the worst for four years in a row.
That's how bad that logo was. And I can't decide whether this logo is an improvement or not.
In some ways, it is indisputably better. If nothing else, you have to acknowledge that the guy who came up with this logo does in fact know how to draw. That was a serious question with the Storm logo. But the Storm logo at least avoided most of the really awful hockey logo clichés. There was no cartoony animal dressed up as a hockey player (although that may be because the artist of the Storm's logo would probably have wound up drawing a stick figure with a goalie mask if he had tried such a thing). The only piece of hockey equipment was a hockey stick. The colors were basic, traditional hockey colors. The artist was clearly hemmed in by his artistic limitations, but the few things that he could do better than the Walleye logo's designer, he did do better.
(Speaking of the colors, I have to ask what's going on here. The trend for teal was supposed to have died a decade or so ago. But this is the second team I've reviewed this year that has teal, out of only four teams so far. Looking ahead, we've got six more teams to go; one of them also uses teal and another uses a blue that is about as close as you can get to teal without actually being accused of being teal. Seriously, people, what the hell? There's a reason teams stopped using that color! Put it back in the 1990s where it belongs!)
There are numerous other issues with this creature:
The missing tooth is almost as cliché as having a cartoony animal playing hockey is. Walleye have sharp teeth, by the way.

The hands (that it has hands is another problem, although only to be expected on a JACKAL) are placed oddly. We don't get a good enough look at his left hand to comment, but look at the right hand. Either it's attached directly to his body without an intervening arm, or it's floating in space. Neither is an appealing thought.

The color of the walleye is absolutely hideous. Based on the pictures I've found, it's fairly close to the actual color of a walleye, but I think the team would have been forgiven had they gone with a purer yellow.

The stick, much like the stick being used by the Amarillo Gorilla, has apparently been drawn by M.C. Escher.
So basically, if one tries to pick which of these is the better logo, one has a choice between the logo drawn by someone who can't draw, or the one drawn by someone who can draw but isn't paying attention to what he's doing. It's impossible for me to actually choose. There's only one way decide, which is to flip a coin.

It figures: the coin just landed on its edge.

NOTE: From what I've found, the plural of "walleye" is either "walleye" or "walleyes", meaning I can interpret this as plural or singular at my discretion. I felt like piling more points on, so I'm interpreting this as plural. Also, the range of the walleye is too large for the team to earn a "Local" bonus.

Final Score: 65 points.
Penalties: Singular, 6 pts; Cartoon, 17 pts; Anthropomorphization, 10 pts; Name-Logo, 2 pts; Equip-Logo (quadruply-egregious), 25 pts; Yucky-Logo, 5 pts.
Bonuses: None.
---
This page Copyright ©2009 Scott D. Rhodes. All rights reserved