| | | |
| --- | --- | --- |
| | Tulsa Oilers | 17 |
---
Notice: All logos on this page are included within the parameters of 17 U.S.C. § 107, which states that the reproduction of a copyrighted work for purposes of criticism and/or comment is not an infringement of copyright. No challenge to the copyrights of these logos is intended by their inclusion here.
---
Posted 2009 March 15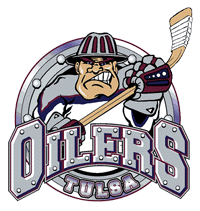 The old Tulsa Oilers logo was a great example of what a logo shouldn't be: a cartoony drawing of a hockey player suffering from 'roid rage, with numerous irrelevant features thrown in and not much in the way of relevant features. With this logo, they have wisely removed all the trouble-making elements.
Unfortunately, they haven't really added anything to replace them. What we've got here is little more than the name of the team in a fairly basic font. In fact, there are only two noteworthy things about the logo beyond this fact:
There's a drop of blood in the logo (do not bother writing in to tell me that it's supposed to be oil unless you can prove to me that oil is crimson in color), and
The "I" is much shorter than the rest of the letters in "Oilers", or maybe it's the only lowercase letter in a word otherwise written in all-caps.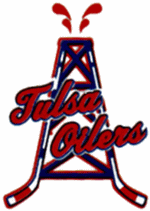 In any case, there's not a lot to hate about this logo, there's not a lot to like about this logo, there's not a lot to say about this logo.

The part that kills me is that they have an alternate logo that's better. Okay, I could do without the hockey sticks, but the oil derrick is a good representation for their name, and adds context that makes it clear that the crimson drops are in fact oil. This logo wouldn't win any awards, but at least it's trying.

While I'm here, let me remind people of one of the amusing things I learned the last time I reviewed this team. "Oilers" is a word, but it doesn't refer to anyone who works in the oil industry. Instead, it refers to someone whose job involves oiling things. In other words, Hank on the oil rig has less business being called an "oiler" than does Rose (if that's her real name) at the massage parlor. As a result, this team does get the "-ers" penalty, which is normally not used for words that actually exist, because the team is clearly using it in a way so unlike the actual meaning of the word that the word may as well not exist.

Final Score: 17 points.
Penalties: -Ers, 9 pts; Name-Logo (quadruply-egregious), 7 pts; Ripoff, 4 pts.
Bonuses: Local, -3 pts.
---
This page Copyright ©2009 Scott D. Rhodes. All rights reserved