| | | |
| --- | --- | --- |
| | Adirondack Thunder | 25 |
---
Notice: All logos on this page are included within the parameters of 17 U.S.C. § 107, which states that the reproduction of a copyrighted work for purposes of criticism and/or comment is not an infringement of copyright. No challenge to the copyrights of these logos is intended by their inclusion here.
---
Posted 2015 December 3
NOTE: This review is essentially a slight rewrite of a prior review for the Stockton Thunder, because the Adirondack Thunder are basically using the same logo.
As most of you know by now, there was a major shake-up in the landscape of minor league hockey this season, and part of that shake-up involved the Stockton Thunder moving to Glens Falls, New York and renaming itself the Adirondack Thunder. I must admit that I have mixed feelings about this. See, there are currently two teams in the ECHL called the Thunder. In addition to Adirondack, you have the Wichita Thunder, who joined the league when it absorbed the Central Hockey League in 2014. As long as the Stockton Thunder were still in Stockton, I could see arguments in favor of both teams keeping the Thunder name. The Wichita Thunder had been using the name longer overall (having debuted in 1992); the Stockton Thunder had been using the name in the ECHL long (having made their debut in 2005). But I kind of feel like once either team moved, it should have relinquished the Thunder name. Stockton moved, so they should have picked a new name in Glens Falls. It's not like the name is in any way specific to the Adirondacks, and it's not that fantastic a name. Nor is there a dearth of other names they could go by. But the team decided to keep using the Thunder name, so there you have it.
That said, I do have to admire the cleverness of this logo, and it's certainly more clever than Wichita's. Every team who decides to name itself after a weather phenomenon — especially one you can't draw directly — has to face the problem of figuring out just how to represent the name of the team in logo form. The Stockton Thunder actually solved it: their logo featured (and the Adirondack Thunder logo features) Thor, the Norse god of thunder. It's brilliant. And given the fact that Norse gods seem to have this odd association with heavy metal, it also intensifies the name somehow.
Unfortunately, the logo doesn't quite work. The trouble starts with the helmet. I realize the Thor is often depicted as having a helmet with wings on it (although I've no idea why), but this one looks kind of silly. Most depictions I've seen have large wings, and they're made of metal and thus purely decorative. These look like actual wings. And not even actual wings from an eagle or falcon or equally fearsome bird. They look like they came from a seagull, or maybe even some kind of songbird. They look, to be totally blunt, goofy. Making Norse gods look goofy doesn't strike me as a good idea. Not that I think the Norse gods are real, mind you, but in the highly unlikely event they are, you don't want to mock them. We've all heard stories about valkyries taking those who were in the gods' favor to Valhalla. The legends don't specify what the valkyries did to those who were in the gods' disfavor, but given the ultimate fate of those who are in their favor (spoiler alert: they all die at the hands of various monsters), we probably don't even want to think about it.
Then there's the big black splotch that Thor's head and arm seem to be sprouting out of. When I first wrote the review for the Stockton Thunder, I thought it was supposed to represent Thor's torso and left arm in shadow. Now that I look at it again, I think it's supposed to be a puck. But that raises another question: if that's a puck and not his torso and left arm, then where did his torso and left arm go? Is the black splotch actually a portal from the dimension where Asgard is located? Is Thor coming through a wormhole?
This is a disturbing image. I know I've often said that team names and logos are supposed inspire a certain amount of fear, but not like this. It's supposed to be one of those instinctual things that generates an involuntary muscle spasm that makes your testicles try to climb back inside you. This is not instinctual. This only evokes fear when you sit down, stare at the logo, and ponder it. Hockey players on the opposing team don't have time to do that. And even for those of us who do, the fear it generates is not so much the testicle-climbing kind as it is the existential dread kind. I don't need a hockey logo to inspire existential dread. I get all the existential dread I need just watching television. And I'm not even talking about the news on TV, either. I'm talking about seeing the promos for Two Broke Girls and realizing that show has already lasted twice as long as Pushing Daisies did.
Then for good measure, the logo gives a hockey stick to a Norse god. By now I shouldn't have to say anything for you to know how silly I think it is for logos to have hockey sticks in the hands of people/animals/trees/etc. that are clearly not hockey players, but putting one in the hands of a Norse God is even worse. If you could read Thor's thoughts in this logo, I'm sure they'd be "What the hell is this stupid piece of wood? Where's my freaking hammer?"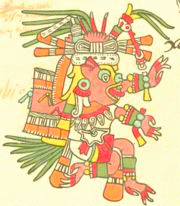 Gods of thunder abound in early mythologies, which should come as no surprise to anyone. Obviously Thor was the best choice for any team wanting to use a god of thunder in its logo, but I have to wonder how some of the others would translate into a hockey logo. The Greeks had Zeus, of course, but quite frankly, a rendering of Zeus would make for a weird logo. Indra would be neat (especially since he's the god of both thunder and war), but few people would get it. The Aztec god of thunder and death, Xolotl (do not bother trying to pronounce this name. You can't. Seriously. The second "l" is a sound that doesn't exist in English, nor in any other European language save Welsh. Do you know Welsh? No? Then don't bother trying to pronounce this name), would be even more obscure, but as you can see from the drawing to the right (taken from an Aztec codex which is about five centuries old), he looks pretty cool in a scary sort of way. The description I found of him is even cooler and scarier: "depicted as a skeleton, a dog-headed man or a monster animal with reversed feet." And ultimately, isn't that what you want in a logo? Something that's scary but cool?
Yes, that's what you want. It's what I want, anyway. So the heck with Thor...put this guy on the logo. And when the team unveils the logo and people ask what the hell it is, the team can just say, "Oh, this? That's the Aztec god of thunder and death. We'd tell you his name, but we can't. We don't speak Welsh."


Note: Okay, I know some of you just aren't going to be happy if I don't give at least some clue as to how to pronounce "Xolotl". The best English approximation I can come up with is "ʃo lotθ", where ʃ is the "sh" of "short", both o's are the long o of "go", and the θ is the "th" in "thin". For those who want something more accurate, the "tl" at the end actually represents an affricate formed of a voiceless alveolar stop and a voiceless alveolar lateral fricative. "Voiceless alvelar stop" is simply technical speak for the "t" sound. As for the voiceless alveaolar lateral fricative, go ask someone who speaks Welsh.


Final Score: 25 points.
Penalties: Region, 3 pts; Singular, 6 pts; Name-Logo, 2 pts; Equip-Logo (egregious), 8 pts; Rip-Off (egregious since there's another team in the league with that name), 6 pts.
Bonuses: None.
---
This page Copyright ©2015 Scott D. Rhodes. All rights reserved