| | | |
| --- | --- | --- |
| | Bridgeport Islanders | 24 |
---
Notice: All logos on this page are included within the parameters of 17 U.S.C. § 107, which states that the reproduction of a copyrighted work for purposes of criticism and/or comment is not an infringement of copyright. No challenge to the copyrights of these logos is intended by their inclusion here.
---
Posted 2021 December 27
Back in the Nineteenth Century, P.T. Barnum served for a few years as the mayor of Bridgeport, Connecticut. Yes, I'm talking about the same P.T. Barnum whose name is immortalized in the Ringling Brothers and Barnum & Bailey Circus, the same P.T. Barnum who was famous for his museum of "curiosities", the same P.T. Barnum who is credited (probably incorrectly) with having coined the expression "Never give a sucker an even break".
And as most readers know, Barnum was rather fond of what he referred to as "humbug": stretchings of the truth and outright hoaxes to get attention. Among his humbugs were the "Centaur of Tymfi" (supposedly a skeleton of a centaur) and the "Fejee Mermaid" (supposedly a mummified mermaid). If you're curious about what either of these look like and want to see them for, um, "real", you can head to The Barnum Museum, which is located in Bridgeport. The Barnum Museum has the original "Centaur of Tymfi" and a replica of the "Fejee Mermaid". So Bridgeport is no stranger to exaggerations and distortions of the truth.
Which may explain why their hockey team claims that the city is on an island when it isn't.
Okay, I know that's not where the name actually comes from. The name actually comes from the fact that the team is the AHL affiliate for, and is owned by, the NHL New York Islanders. Naming top-level minor league teams for their parent team is hardly a new thing. But it usually makes a little more sense. "Penguins" works as well in Wilkes-Barre as in Pittsburgh. "Cubs" works as well in Des Moines as it does in Chicago. "Dodgers" actually works better in Oklahoma City than in Los Angeles (Go read the review for the OKC Dodgers if you're wondering). But "Islanders" doesn't work anywhere near as well in Bridgeport as it does in Elmont. Becuase Elmont is actually on an island, and Bridgeport isn't.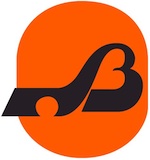 And since Bridgeport isn't on an island (much less on Long Island), using a modified version of the New York Islanders' logo (which actually shows Long Island) wasn't really an option. The obvious thing to do would have been to show the island that Bridgeport is on instead, but we've already discussed why that wasn't going to work, haven't we? So instead we get a letter B, made partly out of a hockey stick. That's so original that I can find an example of a similar thing from almost fifty years ago. Look to the right and you'll see the logo for the Baltimore Blades of the WHA. I actually saw a home game for the Baltimore Blades when I was a kid. There aren't that many people who can say that, seeing as how a) the Blades lasted less than four months and b) their average home attendance was about ten. Anyway, about the only thing keeping me from accusing the Bridgeport Islanders from ripping off the Baltimore Blades logo is the fact that I doubt whoever designed the Bridgeport Islanders' logo is even aware of the Baltimore Blades.
Regardless, the Baltimore Blades is not really a team you want to find yourself being compared to. It's hard to name any team in hockey history that was as big a failure both on or off the ice, much less both. But here we are. And it would have been so easy to avoid this. After all, it's not like the team in Bridgeport didn't have a name and logo already. For twenty seasons, they were the Bridgeport Sound Tigers. This was not an especially good name, but it at least had a modicum of accuracy on its side insofar as Bridgeport is actually located by a sound. If they really felt the need to update the name, they could have just ditched the "Sound" bit and become the Bridgeport Tigers. Instead, they dropped their name for something that makes no sense and doesn't lend itself to a good logo.
In short, this rebranding was humbug.
Final Score: 24 points.
Penalties: Name-Logo (quadruply egregious), 7 pts; Equip-Logo, 5 pts; Offspring, 5 pts; Yucky-Name, 4 pts; Local (as penalty), 3 pts.
Bonuses: None.
---
This page Copyright ©2021 Scott D. Rhodes. All rights reserved