| | | |
| --- | --- | --- |
| | Auburn Doubledays | 131 |
---
Notice: All logos on this page are included within the parameters of 17 U.S.C. § 107, which states that the reproduction of a copyrighted work for purposes of criticism and/or comment is not an infringement of copyright. No challenge to the copyrights of these logos is intended by their inclusion here.
---
Posted 2017 May 14
The Auburn Doubledays are named after Abner Doubleday, who everyone knows wasn't the inventor of baseball. This shouldn't make any sense, but it does. Everyone knows that Doubleday is credited with having invented baseball, but everyone knows he didn't really invent it. What most people don't know is 1) why he's credited with it or 2) what he actually did. Okay, some people also want to know 3) who really did invent it. Let's see if we can answer these questions.
We'll start with number three. No one person invented it. For hundreds of years there's been a game in England called "rounders",* and another game in England called "baseball".** American baseball evolved from these sports, and Doubleday had nothing to do with the first (or any other) attempt to codify the rules in writing.
On to number one. Doubleday was credited with it because much like today, a lot of Americans around the turn of the Twentieth Century were patriotic to the point of preferring "alternative facts" over reality. In this case, it meant refusing to acknowledge the American game was descended from British games when any neutral observer with a modicum of sense could see the American game was indeed descended from them. And since you have to actually have a different explanation (no matter how implausible), they gave credit to a prominent Civil War general. The claim apparently originated with a seventy-year-old man living in Cooperstown NY who claimed to remember that when he was five years old he saw Doubleday invent the game. Never mind the fact that most of us can't remember much of anything from when we were five years old. Never mind the fact that it's fairly well documented that Doubleday could not have been in Cooperstown at the time. Never mind the fact that Abner Doubleday wasn't famous yet at this time, so it's extremely unlikely that a five-year-old would recognize him. Specifics like that are mere details. What really happened is simply that everyone said "Damned if I'm going to admit that the American pastime is English!", and they made up a story so they didn't have to admit it.
Okay, so now let's talk about what Doubleday actually did do.
The part of Doubleday's life that anyone cares about began when he entered West Point at the age of nineteen. He did okay at West Point, graduating 24th in a class of 56. This might not have led to a very illustrious career, but he had the good fortune to graduate not long before the Mexican-American War. A while after that ended, he served in the Seminole War, because let's face it, this wasn't exactly the most pacifistic time in America's history. Then when the Seminole War ended in 1858, he was transferred to a nice, cushy job as second-in-command at a fort in, um, Charleston. Okay, so the cushy job turned out not to be so cushy after all. Captain Doubleday apparently aimed the first cannon that fired on the Confederates at Fort Sumter, and for this he was dubbed the "Hero of Sumter". By himself, that is. I don't know that anyone else ever called him that, but he damn sure did, and if anyone snickered about it they probably did so behind his back.
Actually, I shouldn't say "if anyone snickered about it", because they almost certainly did. Doubleday wasn't exactly respected by his peers. His tendency to take forever to make a decision had earned him the nickname "Old Forty-Eight Hours", and another general (by now Doubleday had been promoted to that rank), upon learning that he was gaining a new assignment and Doubleday would be taking his old division, wrote to this wife that this meant the soldiers in the division "will think a great deal more of me than before."
Anyway, Doubleday eventually found himself at the Battle of Gettysburg, because really, who didn't? He started out in charge of a single division in the First Corps, but by the end of the day was commanding the whole Corps because...um, do you really need me to explain how he managed to get a promotion of that sort in the middle of a battle? From what I could find, he actually did all right that day, but just because you're doing well doesn't mean all hell isn't going to break loose and you aren't going to have to retreat. Which is precisely what he did. And since he wasn't respected by most other officers, he got the blame for it. The result was that Gettysburg wound up being the last battle Doubleday ever fought, as his commanding officer removed him from duty and put another general in charge of the First Corps. Doubleday spent the rest of the war doing desk duty in Washington.
After the war, Doubleday got interested in Theosophy, which you've probably never heard of but was all the rage in some parts of America in the latter half of the Nineteenth Century. Theosophy is basically an esoteric religion which had an emphasis on ideas from Eastern religions but still managed to incorporate western occultism and Qabbalah. Don't worry if you don't understand it. I majored in Religious Studies in college and I can't understand it, so you shouldn't feel bad about not understanding it. I suspect there are some Theosophists who don't understand it. In any case, Doubleday was quite prominent in Theosophical circles, even serving for a time as president of the American branch of the Theosophical Society. In retrospect, it seems odd that someone who got wrapped up in alternative religion would be chosen as the supposed inventor of the "all-American" sport of baseball. But hey, look who evangelicals latched onto during the last presidential election. Doubleday, to his credit, never claimed to have invented baseball. Whether that's because he was too honest to do so or simply because he died before anyone thought to give him credit for it, I don't know. The whole "Hero of Sumter" thing gives one reason to question, but I'll give him the benefit of the doubt.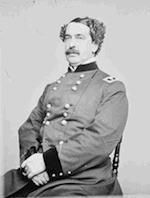 Oh, one last thing. The crazy sideburns-joined-through-a-mustache thing the guy in the logo has? Clearly the implication is that Abner Doubleday had facial hair like that. He didn't. As you can see in that picture to the right, he just had an ordinary mustache. Sorry to disappoint you, if you find that disappointing. If you don't find it disappointing, then...well, then I'm with you. To be honest I consider it a relief. I'm not sure I'd want to live in a world where anyone, at any time in history, had thought that was a good idea. And if there's someone else who had facial hair like that, do me a favor and keep it to yourself. I don't want to know. Baseball fans in the early Twentieth Century had their alternative facts; I've got mine.
| | |
| --- | --- |
| * | I'm not going to spend a lot of time discussing the differences between rounders and (American) baseball, but here's a brief rundown of the main ways that rounders is different from American baseball: 1) The ball and bat are smaller, and the bat is actually swung one-handed. 2) Pitching is underhanded. 3) Balls and strikes work differently (go look it up if you're really that interested). 4) Bases are not bags on the ground but posts which the runner usually grabs (although as with baseball it's okay to contact with any body part). 5) Innings work very differently: Starting with the top of the batting order, everyone bats at least once; once the last batter bats, anyone who wasn't out during their first at bat gets a second bat (in the same order); this process repeats until there is no one available to bat (either because everyone has been gotten out or because the only players who haven't are still on bases). 6) There are only two innings. Oh, also it should be noted that it's kind of like kickball in that it's mostly played by schoolchildren. |
| | |
| --- | --- |
| ** | And now, for those of you who weren't bored silly by the previous footnote, here's a rundown of the major differences between British baseball and American baseball: 1) Basically everything I said about rounders applies here except that British baseball is a game played by adults (where it's played at all, which is mostly in southern Wales and the parts of England that are close to northern Wales) and the ball and bat are roughly the same size as in American baseball. 2) The bat has a flat surface instead of being round. 3) There is no such thing as foul territory, and there are two additional fielding positions as a results. 4) Scoring is different: when you bat, you score one point for a single, two for a double, three for a triple, or four for a home run; you don't score for advancing bases when it's someone else's bat, but you still need to make it home safely in order to get another turn at bat in this inning. |
Final Score: 131 points.
Penalties: Reference, 10 pts; Wordplay, 23 pts; Cartoon, 47 pts; Player, 51 pts; .
Bonuses: None.
---
This page Copyright ©2017 Scott D. Rhodes. All rights reserved