| | | |
| --- | --- | --- |
| | Beloit Snappers | 163 |
---
Notice: All logos on this page are included within the parameters of 17 U.S.C. § 107, which states that the reproduction of a copyrighted work for purposes of criticism and/or comment is not an infringement of copyright. No challenge to the copyrights of these logos is intended by their inclusion here.
---
Posted 2009 June 14
As I write this, the Wikipedia entry for Beloit includes the following sentences: "Beloit is the home of Beloit College. It is also home to a Hormel plant, a Frito Lay plant, the world's largest can of chili, and the Beloit Snappers baseball club of the Midwest League." Man, that's cold. I can understand playing second fiddle to the college in town; indeed, I think that shows a proper perspective in the world. I don't quite understand putting the baseball team in line behind the food plants, unless those are the companies' largest plants or something, but I suppose it makes sense in a sort of "business before pleasure" way. But no matter how you spin it, being deemed less important than a can of chili is just harsh.
(The so-called world's largest can of chili, incidentally, almost certainly isn't. First of all, it apparently is just a circular tower painted to look like a can of chili. But more importantly, the "label" clearly indicates that it is chili with beans, and any fool knows real chili doesn't have beans.)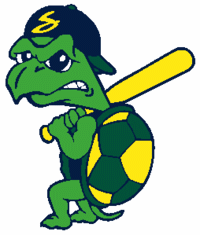 When I first started writing this review, the "chili" joke in that last paragraph was going to segue into a discussion of the logo and the turtle in the logo, but I can't do it. If you look to the right you will see why. Here we have a close-up of the turtle. I can honestly say I have never in my life reacted to a logo in this way. I feel genuinely sorry for this turtle. That's not some exaggeration being made to set up a joke. I genuinely, sincerely feel sympathy for this turtle. I feel so sorry for him that I just deleted the paragraph I had written which had my usual jokes about the logo's appearance. The jokes in that paragraph seemed cruel, and I just couldn't bring myself to keep them.
How could I not feel sorry for this guy? He clearly seems to have been drawn in a way intended to elicit sympathy. Between the oversized pupils, the lowered eyebrows, and the clenched teeth (the curved line by the edge of the mouth even makes it look like his jaw is quivering), it really looks like the poor guy is about to burst into tears. He looks like the little kid during P.E. who'd much rather go off on his own and read a book or climb a tree, but instead he has to play softball with the rest of the class, and everyone's making fun of him and he's absolutely miserable. He looks, in other words, like I felt during most of junior high school. The last thing I would have needed at age thirteen would have been some smart-ass adult pointing out why I wasn't a very good logo for a sports team. So I'm not going to say anything mean about this guy. I simply refuse. I will not do it.
Who I will make fun of is the guy who designed this logo. What the hell were you thinking? How many times do I have to say this? Make the logo look imposing! Is that really such a hard concept? Imposiog logos get your fans and your players pumped up. And when I'm feeling sympathy toward the character you have drawn, you have failed to make the logo look imposing. You have failed on a monumental level. My reaction to a logo is not supposed to be pity. My reaction to a logo is not supposed to be a desire to offer it an encouraging word. Most of all, my reaction to a logo is not supposed to be being reminded of a miserable time in my life. If I lived in Beloit, rest assured that I would never go to a Snappers game simply because I'd get depressed from looking at the logo. Hell, if there were too many billboards for the team in town, I might even move. And I could be wrong, but I'd bet that there are people who live (or used to live) in Beloit who feel the same way about it that I do. And you know what, Mr. Designer: It's all your fault. You're costing your clients money, Mr. Designer. More than that, Mr. Designer, you're costing the town of Beloit tax revenue because you're unnecessarily lowering its population with your crummy logo. And that's a mistake no matter how you slice it.
Final Score: 163 points.
Penalties: Script, 7 pts; Diamond, 16 pts; Humanoid, 30 pts; Cartoon, 47 pts; Player, 51 pts; Logo, 12 pts. Bonuses: None.
---
This page Copyright ©2009 Scott D. Rhodes. All rights reserved