| | | |
| --- | --- | --- |
| | Chicago Dogs | 7 |
---
Notice: All logos on this page are included within the parameters of 17 U.S.C. § 107, which states that the reproduction of a copyrighted work for purposes of criticism and/or comment is not an infringement of copyright. No challenge to the copyrights of these logos is intended by their inclusion here.
---
Posted 2021 July 4
The Chicago Dogs actually play in the village of Rosemont, which is sandwiched between Chicago proper and O'Hare Airport. Rosemont is basically a gated community with some hotels and stadiums, and no, I'm not kidding. There is one large residential area which is indeed gated (although it looks like there are some apartments elsewhere). Between four and five thousand people live in town. Despite the small population, the town is home to a 16,000-seat arena where the WNBA Chicago Sky and the AHL Chicago Wolves play, a 6,000-seat stadium where the Dogs play, a 2,000-seat arena where the Chicago Bandits of National Professional Fastpitch play, the tenth-largest convention center in the United States, over a dozen hotels, over fifty restaurants, and god knows what else. It is the fiefdom of the Stephens family: Donald Stephens was the mayor from the town's incorporation in 1956 (before that he was president of the HOA for the neighborhood that would become Rosemont) until his death in 2007; since then his son Brad has been mayor. As mayor, Brad has an annual salary of $260,000, which is higher than the annual salary of Chicago. In fact, in the entire world the only city whose mayor has a higher salary is San Francisco. Also, Brad's nephew makes almost as much by running the convention center (which, incidentally, is named after Donald), and other relatives include the current superintendent of public safety, his predecessor, the manager of the village-owned entertainment/dining complex, and the park director.
In short, this place just may out-Chicago Chicago.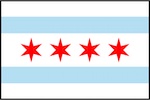 Be all that as it may, I'm actually here to review a team's name and logo. And as far as that goes, I have to appreciate the lack of nonsense here. The team is the Chicago Dogs: named not after the animal but rather the food. The logo features a hot dog with the colors of Chicago's flag (the stars and "background" are reversed, but that's necessary to make the wiener red). Aside from the hot dog, all there is in the logo is the name and a baseball. I could do without the baseball, but even that's a minor thing and hard to argue with. Simply put, this logo has nothing dubious about it.
Unlike, say, the village government.
Final Score: 7 points.
Penalties: Equipment, 13 pts.
Bonuses: Local, -6 pts.
---
This page Copyright ©2021 Scott D. Rhodes. All rights reserved