| | | |
| --- | --- | --- |
| | Erie SeaWolves | 107 |
---
Notice: All logos on this page are included within the parameters of 17 U.S.C. § 107, which states that the reproduction of a copyrighted work for purposes of criticism and/or comment is not an infringement of copyright. No challenge to the copyrights of these logos is intended by their inclusion here.
---
Posted 2019 April 25
NOTE: This review incorporates some material from the review for the Erie SeaWolves' previous logo. Of course, that review was taken down over five years ago and you probably won't notice what got re-used.
Anyone who has never come across the term sea wolf (which I suspect would be most people, since it's not exactly a common term) might wonder if it is indeed a slang term for a pirate, or just something the team made up. For the record, it is indeed a slang term for a pirate. And before anyone asks, yes, of course there were pirates on the Great Lakes. Name a navigable body of water, and there were probably pirates on it at some point. There were pirates on the Ohio River at one point. There were pirates on the Hudson River. To this day there are pirates on the Allegheny River (sorry, couldn't resist). If you told me that the real reason Federick Albert Cook couldn't prove his 1908 expedition made it to the North Pole was because his notes were stolen by Arctic pirates, it wouldn't surprise me a bit.
Those pirates on the Allegheny River are, incidentally, why the team in Erie called itself the Sea Wolves. When the team was founded back in 1995, they were a New York-Penn League team affiliated with Pittsburgh. For whatever reasons, when they moved up to the Eastern League in 1999 as an Anaheim Angels affiliate, they kept the "SeaWolves" name. They changed their affiliation to Detroit in 2001, and again decided not to change their name. Even when they decided in 2015 that it was time to rebrand, they made the deliberate decision to stick with the name.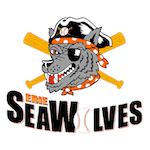 And boy, was it time to rebrand in 2015. To the right is their previous logo. Actually, the time to rebrand away from that monstrosity was long past in 2015. I'm fairly certain the time to rebrand away from that was approximately twenty minutes after they unveiled it. When I first reviewed that logo, it set a new record for the highest BLF to date. That record has been surpassed twice since then — by the Gary SouthShore RailCats and the Modesto Nuts — but it's still pretty damn awful. And when you consider the fact that Modesto's and Gary's logos are at least drawn competently, this has a good claim to being the worst logo I've ever reviewed even if it doesn't have the highest score.
The new logo is, in many ways, little more than the previous logo done competently. Both feature a wolf wearing a pirate's hat and an eyepatch. In both cases the wolf is in front of a pair of crossed baseball bats. There are some minor changes, some better (getting rid of the kerchiefs) and some worse (the bats now have sword handles), but the major change is that whoever drew this logo is a better artist than whoever drew the last one. There's nothing original here, and there's nothing that stands out in a good way. But that's fine. As you can see, the result is a logo that lands in the middle of the pack score-wise, rather than setting a record in the wrong direction. Sometimes, mediocrity is a major improvement. This is one of those times.
Final Score: 107 points.
Penalties: Wordplay, 23 pts; Software, 27 pts; Equipment (egregious), 27 pts; Humanoid, 30 pts.
Bonuses: None
---
This page Copyright ©2019 Scott D. Rhodes. All rights reserved