| | | |
| --- | --- | --- |
| | Florence Y'alls | 73 |
---
Notice: All logos on this page are included within the parameters of 17 U.S.C. § 107, which states that the reproduction of a copyrighted work for purposes of criticism and/or comment is not an infringement of copyright. No challenge to the copyrights of these logos is intended by their inclusion here.
---
Posted 2023 July 1
This may be the only baseball team — indeed, the only sports team — named after a water tower.
Back in 1974, a developer decided to build a shopping mall in Florence, Kentucky. As part of the process, the developer gave the City of Florence land on which to build a water tower; the land in question sat between Interstate 75 and where the mall would be built. The condition for allowing this was that once the water tower was built, "FLORENCE MALL" would be painted on it, facing the Interstate. Painting the name of a shopping mall on the side of the water tower struck the city as a small price to pay for the land, so of course they took the land and built the tower. And no sooner had they done that than the ran into a problem: Apparently painting the name of a mall that hadn't even been built yet was illegal. Repainting the whole tower was going to be expensive. So, they improvised. They painted over the M, put a Y' in its place, and voilà it no longer said "FLORENCE MALL", it said "FLORENCE Y'ALL". Totally legal. And since pretty much everyone in a 50-mile radius knew why the sign had been changed, it probably served as better publicity for the yet-to-be-built mall than if the original wording had been allowed to stand.
The tower has become an unofficial symbol of the town, and "Florence Y'all" has become an unofficial slogan. For example, go to Google Maps and look for Florence Kentucky, and look at the picture at the left that comes up as a visible landmark in town. Yep, that's the water tower. Well, sort of. Click on the picture to get a better look at it and you'll see that it's actually a replica of the tower located at a miniature golf course. Now I could just laugh at that because it's cheesy, but it also shows what I'm talking about. The local miniature golf course wanted to put up a recognizable local landmark, and that's what they picked.
I don't know how much of this is tongue-in-cheek and how much of it is sincere, but I don't suppose it matters. Either way, it's not a surprise that a sports team in Florence might decide to call itself the Y'alls. And since the only professional sports team in town is the baseball team, that's the team that's going to do it.
The irony in all this? Apparently people in Florence don't actually say "y'all".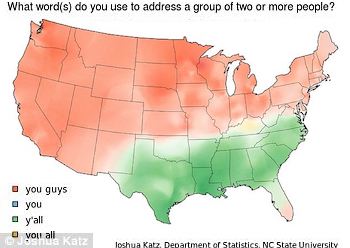 Do you remember the dialect maps made by Joshua Katz of North Carolina State University that exploded in popularity about ten years ago? To the right is the map for what word people use as the plural second-person pronoun. Green is where people say "y'all", red is where people say "you guys", and yellow is where people say "you all". (The map also codes blue as where people say "you", but I don't see any blue on the map.) Florence is near the KY-IN-OH tripoint, which is "you guys" territory, according to this map.
Now, I admit I haven't spent much time in Florence (I think I spent the night there once while driving up to visit in-laws in Indiana, but if I did I doubt I spoke with more than a handful of people while I was there), so I'm going by second-hand information here. But according to the map, they don't say "y'all". And these maps were made forty years after the water tower went up, so it's unlikely that people switched to saying "y'all" after these maps were made.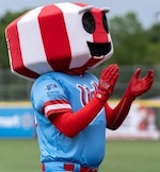 But either way, the water tower is there, and there's a baseball team named after it. And there's probably not another city anywhere in the world you can say that about.
But wait, there's more! Teams needs mascots, right? (Not really, but they all think they do.) And what do you do for a mascot when your name is a second-person pronoun taken from a water tower? Just take a look to the left to find out.
Clearly someone needs to clean out that water tower. Clearly there are chemicals in the water supply that are affecting people's brains.
Scoring Note: I gave the team the "wordplay" penalty because y'all is already plural, and they made it plural by adding an -s to the end. The name is the plural of a plural. I'm not quite certain "wordplay" is the best penalty, but one way or another they deserved to be punished for this.
Final Score: 61 points.
Penalties: Wordplay, 23 pts; Script, 7 pts; Equipment, 13 pts; Letter, 24 pts; Logo, 12 pts.
Bonuses: Local, -6 pts.
---
This page Copyright ©2023 Scott D. Rhodes. All rights reserved