| | | |
| --- | --- | --- |
| | Hickory Crawdads | 67 |
---
Notice: All logos on this page are included within the parameters of 17 U.S.C. § 107, which states that the reproduction of a copyrighted work for purposes of criticism and/or comment is not an infringement of copyright. No challenge to the copyrights of these logos is intended by their inclusion here.
---
Posted 2009 August 30
Usually when you have a team named after crustaceans, it's because it's a local delicacy. This is true of the Southern Maryland Blue Crabs, the Charlotte Stone Crabs (who play in Charlotte, Florida, not Charlotte, North Carolina), the Lakewood BlueClaws, and hockey's Bossier/Shreveport Mudbugs. Heck, it was even true of the fantasy hockey team I ran a few years back. It doesn't seem to be the case here. Hickory is located nearly four hours away from the coast, I've never heard of even coastal North Carolinians describe crawdads as a local delicacy. When it comes to seafood in North Carolina, the big thing is shrimp. As for the inland parts of the state, the big thing is barbecue. Most North Carolinians agree (I don't) that North Carolina style barbecue is a wonderful thing. But when it comes to describing what, precisely, North Carolina style barbecue actually is, things get ugly. There is Eastern North Carolina style barbecue and Western North Carolina style barbecue, and to describe the fervor with which some people approach the subject as "religious" is to be guilty of understatement. If there is ever a topic which will lead to civil war within the state of North Carolina, if there is ever a subject where the disagreement is so heated that there is a body count associated with it, that subject is barbecue. As far as most people are concerned, there is only one kind of North Carolina barbecue, and those idiots on the other side of the state are just too stupid and too set in their ways to understand that.
Me? I'm staying out of this one. I get myself in enough trouble around here every time I go off about what a stupid sport basketball is. Besides, I've got no skin in this game. I lived in Maryland as a kid. I'll take crab cakes over either kind in a heartbeat. So to all my fellow North Carolinians who strongly feel that your barbecue is best and people in the other part of the state must be crazy to like theirs, let me simply say this: I don't know what's wrong with these people, either. Of course yours is the best. I agree with you 100%. No matter which part of the state you come from. Now do me a favor and pass me the crab cakes. No, no, no...not those crappy "Carolina style" crab cakes...real ones.
Or, for that matter, pass me the crawdads. Crawdads aren't just tasty, they're fun to eat. After you've gotten the meat out of the tail, you can do all kinds of fun things with the disembodied heads. That's why I always get a kick out of eating them at the local oyster bar, although my friend Rick refuses to come there with me anymore (see my review for hockey's Bossier-Shreveport Mudbugs for the full story). But I would point out that I have to go to the New Orleans-themed oyster bar to get them. That's because — if you'll excuse me actually getting back to the point of this review for a moment — crawdads are a Louisiana delicacy, not a North Carolina delicacy.
But even if I could overlook the odd name, I still wouldn't be able to overlook this logo. Unlike the various crabs in other teams' logos, this fellow looks like he's been cooked. (Yes, I know there are a handful of crawdads that are red when alive. But not this shade of red.) And he's holding a baseball which, if he's a normal-sized crawdad, is only a couple of millimeters in diameter. If the baseball is normal size, then the crawdad must be nearly six feet long. If that's the case, I'm glad he's been cooked, because I don't think I'd want to face a live crawdad that big. And don't ask me why, but something about the pose looks lewd. Even though I think the "H" in the logo is fairly ridiculous, I'm glad it's there. I'm particular glad the right bar of the "H" is where it is. I don't care to see what's behind it.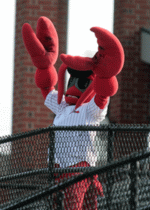 But maybe you're not like me. Maybe you're some sicko who gets off on the idea of naked crustaceans. If so, all you have to do is head down to Hickory yourself and check out their mascot. To the right is a picture of him. (His name is Conrad.) You can't see anything untoward in this picture (this is a family site, after all), but you can clear tell that he's walking around with no pants. I find this disturbing. It's more disturbing than if he had no clothes on at all. A totally unclothed animal is just blissfully unaware of human taboos regarding nudity. But an animal that's wearing a shirt and nothing else is clearly a conflicted creature. On the one hand (claw?), he understands human standards of decency. On the other hand, he's proud of his junk and wants us all to see it. I can understand the desire to dress that way (it gets pretty damned hot down here in the summer, and it ain't no dry heat), but if I tried a stunt like that I'd be branded a sex offender. They should arrest this creature. They should arrest him, try him, convict him, and sentence him to being boiled and served with some red beans and rice. But they won't, because he's six feet tall and has claws. You want to arrest him? I'm not going to try it. I'm not getting anywhere near that freak. And don't say you'll just tase him and them slap the cuffs on. You don't have cuffs that big. And if you do, then you're even sicker than I thought, and I don't want to get any closer to you than I want to get to Conrad. Either way, I'm just going to keep my distance. In fact, there's this restaurant just up the road that was started by two brothers from Salisbury, Maryland; I think I'll go there instead. The crabcakes are truly amazing.
Final Score: 67 points.
Penalties: Equipment, 13 pts; Letter, 24 pts; Humanoid (for the eyes), 30 pts.
Bonuses: None.
---
This page Copyright ©2009 Scott D. Rhodes. All rights reserved