Baseball
---
HOME
HOCKEY
OTHER
RULES
RANKINGS
HISTORY
---

TEAMS

Teams with asterisks are not yet posted

Aberdeen IronBirds
Acereros del Norte
Águila de Veracruz*
Aigles de Trois-Rivières
Akron RubberDucks
Albuquerque Isotopes
Algodoneros de Unión Laguna
Altoona Curve
Amarillo Sod Poodles
Arkansas Travelers
Asheville Tourists
Augusta GreenJackets
Beloit Snappers
Billings Mustangs
Biloxi Shuckers
Binghamton Rumble Ponies
Birmingham Barons
Boise Hawks
Bowie Baysox
Bowling Green Hot Rods
Bradenton Marauders
Bravos de León
Brooklyn Cyclones
Buffalo Bisons
Capitales de Quebec
Carolina Mudcats
Cedar Rapids Kernels
Charleston Dirty Birds*
Charleston RiverDogs
Charlotte Knights
Chattanooga Lookouts
Chicago Dogs
Clearwater Threshers
Cleburne Railroaders
Columbia Fireflies*
Columbus Clippers
Corpus Christi Hooks
Dayton Dragons
Daytona Tortugas
Delmarva Shorebirds
Diablos Rojos del México
Down East Wood Ducks*
Dunedin Blue Jays
Durham Bulls
El Paso Chihuahuas
Erie SeaWolves
Eugene Emeralds
Evansville Otters*
Everett AquaSox
Fargo-Moorhead RedHawks
Fayetteville Woodpeckers*
Florence Y'Alls
Fort Myers Mighty Mussels
Fort Wayne TinCaps
Fredericksburg Nationals*
Fresno Grizzlies
Frisco RoughRiders
Frontier Greys*
Gary SouthShore RailCats
Gastonia Honey Hunters
Gateway Grizzlies
Generales de Durango
Glacier Range Riders*
Grand Junction Rockies
Great Falls Voyagers
Great Lakes Loons
Greensboro Grasshoppers
Greenville Drive
Guerreros de Oaxaca
Gwinnett Stripers
Harrisburg Senators
Hartford Yard Goats*
Hickory Crawdads
High Point Rockers
Hillsboro Hops
Hudson Valley Renegades
Idaho Falls Chukars
Indianapolis Indians
Inland Empire 66ers of San
Bernardino
Iowa Cubs
Jacksonville Jumbo Shrimp
Jersey Shore BlueClaws*
Joliet Slammers
Jupiter Hammerheads
Kane County Cougars*
Kannapolis Cannon Ballers*
Kansas City Monarchs
Lake County Captains
Lake Country Dockhounds*
Lake Elsinore Storm
Lake Erie Crushers
Lakeland Flying Tigers
Lancaster Barnstormers
Lansing Lugnuts
Las Vegas Aviators
Lehigh Valley IronPigs
Leones de Yucatán
Lexington Legends
Lincoln Saltdogs
Long Island Ducks
Louisville Bats
Lynchburg Hillcats
Mariachis de Guadalajara*
Memphis Redbirds
Midland RockHounds*
Milwaukee Milkmen
Mississippi Braves
Missoula Paddleheads*
Modesto Nuts
Montgomery Biscuits
Myrtle Beach Pelicans
Nashville Sounds*
New Hampshire Fisher Cats
New Jersey Jackals*
New York Boulders
Norfolk Tides
Northern Colorado Owlz
Northwest Arkansas Naturals
Ogden Raptors*
Oklahoma City Dodgers
Olmecas de Tabasco
Omaha Storm Chasers
Ottawa Titans*
Palm Beach Cardinals
Pensacola Blue Wahoos
Peoria Chiefs
Pericos de Puebla
Piratas de Campeche
Portland Sea Dogs
Quad City River Bandits
Rancho Cucamonga Quakes
Reading Fightin Phils
Reno Aces
Richmond Flying Squirrels
Rieleros de Aguascalientes
Rochester Red Wings
Rocket City Trash Pandas*
Rocky Mountain Vibes
Rome Braves
Round Rock Express*
Sacramento River Cats
Salem Red Sox
Salt Lake Bees
San Antonio Missions
San Jose Giants
Saraperos de Saltillo
Schaumburg Boomers
Scranton/Wilkes-Barre RailRiders
Sioux City Explorers
Sioux Falls Canaries
Somerset Patriots
South Bend Cubs
Southern Maryland Blue Crabs
Spokane Indians
Springfield Cardinals
St. Lucie Mets
St. Paul Saints
Staten Island Ferry Hawks*
Stockton Ports
Sugar Land Skeeters
Sultanes de Monterrey
Sussex County Miners
Syracuse Mets*
Tacoma Rainiers
Tampa Tarpons*
Tecolotes de los Dos Laredos*
Tennessee Smokies*
Tigres de Quintana Roo
Toledo Mud Hens
Toros de Tijuana*
Trenton Thunder
Tri-City Dust Devils
Tri-City ValleyCats
Vancouver Canadians
Visalia Rawhide
Washington Wild Things
West Michigan Whitecaps
Wichita Wind Surge
Wild Health Genomes*
Wilmington Blue Rocks
Windy City Thunderbolts
Winnipeg Goldeyes*
Winston-Salem Dash*
Wisconsin Timber Rattlers
Worcester Red Sox*
York Revolution

| | | |
| --- | --- | --- |
| | Jamestown Jammers | 216 |
---
Notice: All logos on this page are included within the parameters of 17 U.S.C. § 107, which states that the reproduction of a copyrighted work for purposes of criticism and/or comment is not an infringement of copyright. No challenge to the copyrights of these logos is intended by their inclusion here.
---
Posted 2013 July 5
Are you familiar with the "80/20 rule"? For those who aren't, it says that for many events, 80% of the effects come from 20% of the causes. For example, for most businesses, 20% of the customers account for 80% of the business, and 20% of the company's product line will account for 80% of the business. Microsoft has stated that 20% of bugs account for 80% of computer crashes. The rule finds its way into other realms, too: the richest 20% of the population in the United States possesses slightly over 80% of the wealth.
I was thinking about this rule when I looked at the name Jamestown Jammers. It's subtle (or at least it would be if not for the logo), but the name "Jammers" comes from the fact that western New York is one of the largest producers of grapes. (If you don't get it, think about PB&J sandwiches.) This team is names after a plant. That's fairly rare. And since it turns out that this is the one hundredth baseball review I've posted, I decided to see if this was the first (it's not). And that got me thinking about how the vast majority of team names come from just a few categories. And the next thing you know, I was going full-bore OCD and categorizing all of the teams that had been reviewed. Here's what I came up with:
Category
Teams
Animals and Animal Parts
(43 names/47 teams)
Bears (2 teams), Beavers, Bees (2 teams), Bulls, Crawdads, Cubs, Delfines [dolphins], Dragons, Ducks, Fighting Pheasants, Goldeyes, Grasshoppers, Grizzlies (2 teams), Hammerheads, Hillcats, Jackals, Lake Monsters, Muckdogs, Mudcats, Mud Hens, Owls, Pelicans, RailCats, Redbirds, RedHawks (2 teams), Red Wings, Rock Cats, Rockhounds, Roadrunners, Rojos del Águila [red eagles], SaltDogs, Sea Dogs, SeaWolves, Seals, Snappers, Spikes, T-Bones, Tecolotes [owls], Tigers, Tigres [tigers], Timber Rattlers, ValleyCats, WhiteWings
Humans and Humanoids
(21 names/27 teams)
Acereros [steelers or steel workers], Beach Bums, Braves (4 teams), Brewers, Chiefs (2 teams), Diablos [devils], Diablos Rojos [red devils], Drillers, Fielders, Giants, Guerreros [warriors], Indians (3 teams), Knights, Na Koa Ikaika [strong warriors], Olmecas, Padres, Saints, Spinners, Sultanes [sultans], Travelers, Twins
Forces of Nature
(6 names/teams)
Blaze, Cyclones, Quakes, Tides, Volcanoes, Whitecaps
Transportation
(3 names/teams)
66ers, Clippers, Drive
Clothing
(2 names/3 teams)
GreenJackets, Red Sox (2 teams)
Concepts
(2 names/teams)
Freedom, Legends
Machinery and Machine Parts
(2 names/teams)
JackHammers, Lugnuts
Gems
(2 names/teams)
Diamond Jaxx, Emeralds
Places
(2 teams/names)
Phillies, Rainiers
Plants
(2 names/teams)
Jammers, LumberKings
Celestial Objects
(1 name/team)
Stars
Games
(1 name/team)
Aces
Uncategorizable
(1 name/team)
Wild Things
You might quibble with precisely how I categorized a few of these, but hopefully you'll agree that I wasn't completely off the base more than a few times. Now, some quick counting will show us that there are 12 categories (including "Uncategorizable"). And if you take the three biggest categories, you'll find that they account for exactly 80 teams. I know that this is more of a 25/80 rule than a 20/80 rule, but it's still pretty close. Furthermore, you can subcategorize the various animals into mammals, birds, fish, reptiles, insects, crustaceans, and mythical animals; the two biggest categories account for 35 of the 46 teams. Again, not exactly an 80/20 rule, but pretty darned close.
On the one hand, it's a little disappointing that so many team names come from such a narrow range of possibilities. I understand why, to an extent: as I've said before, team names are a totem of sorts, and more often than not totems were animals. On the other hand, there's a fair amount of creativity in the other categories, is there not? Clothing, Plants, Machinery...even when the exact names don't really work all that well (and I don't think anyone's going to seriously claim that "Lugnuts" works), you have to respect the willingness to stray away from the obvious categories of animals, people, and natural forces.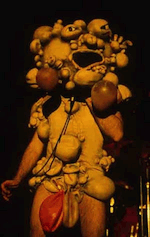 But that doesn't mean it isn't at least a little problematic. What do you make a logo of when your team is named after a plant? The Jammers went with the obvious, and featured the plant in question. Their logo, as you can see, is an anthropomorphic bunch of grapes holding a baseball bat. This is, how shall I put this, a wee bit unfortunate. It's particularly bad to me, because I'm a fan of progressive rock, and although I'm far too young to have seen Genesis in concert during the tour for The Lamb Lies Down on Broadway, I've seen pictures. For those who are unfamiliar with the album, it's a concept double-album about a half-Puerto-Rican juvenile delinquent who gets sucked into a dream world where he gets caught in a cage made out of stalactites and stalagmites, escapes, dies (but not really), has sex with lamias, visits a colony of deformed people called slippermen, gets castrated, and a few other things that I don't really remember because even though I love progressive rock I have very limited patience for concept double-albums and by the time we're halfway through Side Three I'm only paying cursory attention (if any at all) to the concept. And when they did this in concert, they had props and costumes to show what was happening. Peter Gabriel swears he was not on drugs when he wrote this. I'm inclined to believe him, if only because it's such an outlandish claim and generally when people tell lies they tell lies that they hope someone will actually believe. No one could believe such a claim, which is why I believe it. Anyway, if you look to the right you'll see the slipperman costume, which may look weird but does make sense in context (or at least, it makes as much sense as anything else from that album). It looks unnervingly similar to the anthropomorphic grapes, if you ask me. There's a part of me that thinks they should make a replica of the slipperman costume and use it as the costume for their mascot...but only if they want to scare any child under the age of 7.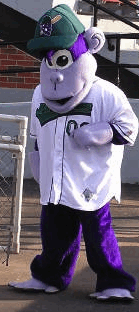 Their real mascot, as you can see, is just a monkey. A purple monkey. I suppose, given the origin of the name, having Grape Ape as your mascot is perfectly reasonably (and certainly less nightmare-inducing than my suggestion). But I can't help but be a little disappointed. They're one of the few teams not names after an animal, so why use an animal for a mascot? They could use so many other things: a wine bottle, or a jar of jelly, or a single, gigantic grape.
Oh, well. It's not like they should listen to me, is it? I mean, you saw my first suggestion. They should probably call me up, let me brainstorm for a few minutes, and then make certain they never use any of my ideas. This is your brain, people, and this is your brain on progressive rock.
Final Score: 216 points.
Penalties: Reference, 10 pts; Ers, 26 pts; Alliteration, 5 pts; Humanoid (egregious), 61 pts; Cartoon, 47 pts; Player, 51 pts; Name, 10 pts; Logo, 12 pts.
Bonuses: Local, -6 pts.
---
This page Copyright ©2013 Scott D. Rhodes. All rights reserved