| | | |
| --- | --- | --- |
| | Long Island Ducks | 158 |
---
Notice: All logos on this page are included within the parameters of 17 U.S.C. § 107, which states that the reproduction of a copyrighted work for purposes of criticism and/or comment is not an infringement of copyright. No challenge to the copyrights of these logos is intended by their inclusion here.
---
Posted 2010 June 20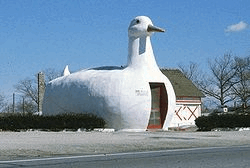 Long Islanders are fond of ducks. Don't believe me? Look at the building to the right. This building — officially known as the "Big Duck" — is located in Suffolk County, on the eastern part of Long Island. I'd say where in Suffolk County, but apparently the thing has moved several times, and I lost track of all the places it's been while reading the article about it. I'm sure that I could have kept track had I focused, but I kept getting distracted by the mental image of the building standing up on its legs and waddling down the road.
This building is a big deal. It is actually on the National Registry of Historic Places, and I think we all know that when it joined the other buildings looked at each other and said, "Jeez, they'll let anyone onto the list these days." Clearly, being dignified is not a prerequisite to being historic.
The building is currently owned by the county, which uses it to...okay, I have no idea what they use it for. It was originally a shop where the owner sold ducks and duck eggs. Now? No telling. It's probably just a tourist site, where docents in period clothing (from the 1930s) give tours to tourists who try to pretend that this is half as interesting as Monticello or Mount Vernon. I can't imagine the tours last very long, either, given that the thing is only about 30 feet long. In the nearby souvenir shop they— oh, who am I kidding? The thing probably is the souvenir shop. I'm sure they have an amazing collection of rubber duckies for sale. I hope they have this one.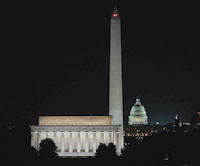 But wait, there's more. According to Roadside America, the eyes have (or at least once had) red lights in them which were turned on at night. Personally, I find the two glowing dots on the Washington Monument to be odd enough. Glowing red eyes on a 20-foot-tall cement duck? There are no words to describe that.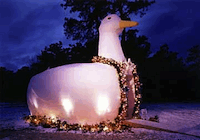 And just in case all this wasn't enough, at Christmas they light this sucker up in a ceremony called the "Holiday Lighting of the Big Duck". According to Roadside America, "Local school children sing 'duck' carols, and warm refreshments including hot chocolate, cookies and doughnuts are served." "Duck" carols? I can only imagine: "Rudolph the Red-Nosed Mallard"? "Have Yourself a Merry Little Duck?" And you know — you just know — that one of the songs they sing is "Duck the Halls".
So why all this love for ducks in Long Island? Simple: They used to farm them there (and may still, for all I know). Now, I certainly have no problem with farming ducks. I'm actually quite fond of duck (it tastes much better than chicken or turkey, if you want my opinion). But I always find it ever so slightly odd when teams are named after food. Granted, this is usually done with animals (I am yet to see a team named, for example, the Baltimore Blancmange), and animals can often be good team names. But the relation of ducks to Long Island is not that there are a bunch of native wild ducks flying all over the place. The relation of ducks to Long Island is that they're raised for meat there. When a team calls itself the Southern Maryland Blue Crabs, that's at least a native animal that is caught for food. In some ways the name "Long Island Ducks" is less akin to "Southern Maryland Blue Crabs" than it is to a team called the "Western Iowa Corn". (That's not a real team name. I hope it stays that way.) That being said, I have to concede that "Western Iowa Corn" is not a name that makes me hungry. "Southern Maryland Blue Crabs" is, and so is "Long Island Ducks".
But if the name whets my appetite, the logo piques my curiosity. How is that Disney has not sued this team out of existence? Is the weird bill-as-combover enough of a difference to protect them? Does it even matter? A company as big as Disney can afford lawyers who will file so many motions that the team will go broke just trying to defend them, regardless of their merit. The team can't possibly be so obscure that no one at Disney has noticed, can it?
If so, I hope I haven't just tipped them off. I'd hate to be responsible for the death of a team. Maybe I should shut up now, just to be on the safe side.
Final Score: 158 points.
Penalties: Region, 8 pts; Script, 7 pts; Letter, 24 pts; Humanoid (for the eyes), 30 pts; Cartoon (egregious since I can identify the specific character it looks like), 95 pts.
Bonuses: Local, -6 pts.
---
This page Copyright ©2010 Scott D. Rhodes. All rights reserved