| | | |
| --- | --- | --- |
| | Lancaster JetHawks | 103 |
---
Notice: All logos on this page are included within the parameters of 17 U.S.C. § 107, which states that the reproduction of a copyrighted work for purposes of criticism and/or comment is not an infringement of copyright. No challenge to the copyrights of these logos is intended by their inclusion here.
---
Posted 2016 July 29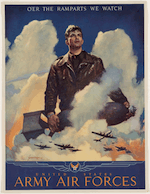 Look, I get it. The Lancaster Jethawks were trying to come up with an inspiring-looking logo. They gave the hawk in their logo that heroic, looking-off-into-the-distant-sky pose we associate with World War II posters. You know, like the guy to the right of this text. The similarity, I think, is obvious.
There's just one problem: that pose isn't nearly so common in World War II posters as you think. More often, the person in the poster is looking straight at you, the way Rosie the Riveter is, the way Uncle Sam in the "I WANT YOU" poster is. I did a Google Image Search of "World War II posters", and out of the hundreds that came up only a dozen or so had people in that pose. Worse, several of them were posters from Germany, German-occupied Denmark, and Japan. Oh, and the Soviet Union, which may have been an ally but isn't exactly a country you want to evoke in a baseball logo.
But if you want to bring up pictures of dozens and dozens of posters with people in that pose, try going a GIS on "Chinese propaganda posters" or "North Korean propaganda posters". You'll be left wondering if anyone in either of those countries ever looks down.
So if you're inclined to mock this logo, they've definitely given you good reason to. And yet, I'm not so inclined. I still think it's a good logo, comparisons to the Cultural Revolution nonwithstanding. In part, it's a good logo because it stands out — there are few if any other teams whose logo features a similar pose. It also works for the same reason the propaganda posters that use that pose work: something in our primal brains finds that pose inspiring. Why that is, I have no idea, but it works regardless. Finally, it works because it's well executed. The drawing of the hawks strikes just the right level of abstraction. The shape of that badge, and the lines which subtly hint at wings, continue that level of abstraction. It's a little bit too symmetrical, but it works in spite of that.
Of course, it should be no surprise that it works. It's based on propaganda, but really that's what logos are on some level: propaganda intended to evoke an emotional, not intellectual, response. It does that. It does that better than most logos out there. Maybe other teams should take note of that.
But please, let's not go overboard with the distant-sky pose. With one team it's effective. With a hundred teams doing it, it would become ridiculous. You know, like North Korean propaganda.
Final Score: 103 points.
Penalties: Software, 27 pts; Compound, 34 pts; Equipment (doubly-egregious), 42 pts.
Bonuses: Local, -6 pts.
---
This page Copyright ©2016 Scott D. Rhodes. All rights reserved