| | | |
| --- | --- | --- |
| | Lansing Lugnuts | 198 |
---
Notice: All logos on this page are included within the parameters of 17 U.S.C. § 107, which states that the reproduction of a copyrighted work for purposes of criticism and/or comment is not an infringement of copyright. No challenge to the copyrights of these logos is intended by their inclusion here.
---
Posted 2013 April 26
Hoo-boy. Every once in a while I look at a particular logo and just think to myself, "This is what the Bush League Factor was made for." And dear reader, this is one such logo.
It begins, of course, with the name. The idea of naming a team, even a team in Michigan, after an automobile part is absurd even when it's something that could vaguely be considered impressive, like a motor or a piston. But to name a team after a nut, of all things, goes straight into the realm of the sublime. Between the fact that you'd be hard pressed to name a less impressive part of a car, the let's-make-all-the-junior-high-kids-snicker aspect of the word "nut", and the fact that the word "lugnut" just plain sounds goofy, it's hard to imagine how this name could be any worse. I think they were aiming for the "so bad it's awesome" vibe that you find in names like "Macon Whoopees" (for those who don't know, this was the actual name of a hockey team in Macon, Georgia). The problem is, they missed. You know how on The Price is Right the announcer is always talking about "the closest to the actual price without going over"? This is a similar thing: the most ridiculous idea imaginable without being awesome. (I'm not sure how they could have actually gone into "so bad it's awesome" territory, but my best guess would be the "Lansing Boils". Even if that's not so bad it's awesome, it's still an improvement over "Lansing Lugnuts", which should tell you just how irredeemably awful the team's name is.)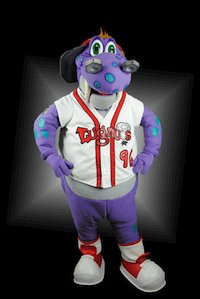 And then there's the logo. the city name is written in a font that makes Comic Sans look like Garamond. The teamname is written in a strange lettering (it doesn't deserve to be called a font) that looks vaguely reminiscent of the Old West for some strange reason. The horseshoe-shaped U's are what does it, I think. And then "T" is, of course, made out of a—
You thought I was about to say "lugnut", didn't you? But I'm not, because it isn't. Nuts, remember, are the usually-hexagonal* pieces that the cylindrical bolts screw into. The "T" is made out of the bolt. This is a good thing from my perspective, because it allows me to throw the "Irrelevant" penalty at a logo that needs to have as many points as possible piled onto it.
The last point of absurdity is the team mascot. He is shown at the right. His name is "Big Lug", and as you can see, he looks like Barney, but with teal acne, fangs, and two gigantic nuts hanging out of his nose like a pair of hexagonal boogers. I thought the point of mascots was to attract children, not scare them.
I think the team did this on purpose. I think the team did all of this on purpose. I think the team wanted to have the worst name imaginable, the worst logo imaginable, and the worst mascot imaginable, because they thought it would be cool. They were wrong.
| | |
| --- | --- |
| * | Lug nuts are not hexagonal, incidentally. What differentiates a lugnut from a regular nut is that one side of lugnut is circular instead of hexagonal. What etymology allows "lug" to mean "rounded on one side" I do not know. |

Final Score: 198 points.
Penalties: Alliteration, 5 pts; Letter, 24 pts; Humanoid (egregious), 61 pts; Irrelevance, 39 pts; Cartoon, 47 pts; Name, 10 pts; Logo, 12 pts. Bonuses: None.
---
This page Copyright ©2013 Scott D. Rhodes. All rights reserved