| | | |
| --- | --- | --- |
| | Laredo Lemurs | 7 |
---
Notice: All logos on this page are included within the parameters of 17 U.S.C. § 107, which states that the reproduction of a copyrighted work for purposes of criticism and/or comment is not an infringement of copyright. No challenge to the copyrights of these logos is intended by their inclusion here.
---
Posted 2013 July 10
Certain names need no justification. They're just off-kilter enough to get your attention, but not so strange as to leave you scratching your head. For example, if you were going to name your team after a mythical creature, "Giants" would be too straightforward and "Squonks" too strange, but "Jackalopes" falls into the sweet spot. If you were going to name your team after a historic group of people, "Vikings" would be too straightforward and "Etruscans" too strange, but "Scythians" would work. And when it comes to animals — well, I'm sure you can think of several too-straightforward names without my help, and you probably don't need my help to think of some that would be too strange, but I think "lemurs" works nicely. It doesn't matter if the name has any ties to the area; nor does it matter if the lemur is not renowned for being particularly strong. There's a je ne sais quoi about it, and it works.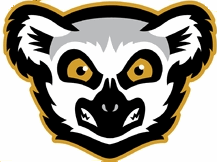 That's fine, but when you pick a team name that goes for je ne sais quoi instead of intimidating connotations, you need to keep that in mind when creating your logo. If the animal your team is named after is not a particularly intimidating creature, don't try to make the animal in the logo intimidating. It will not work. Don't believe me? Look at this logo. Specifically, look at the lemur's teeth (I've included a close-up of the lemur's face since the logo at the top is kind of small). A lemur baring its sharp, jagged teeth? There are two problems here. One, I did a google image search on "lemur" and looked at eleventy gazillion pictures of lemurs, and not in one of them could you even see their teeth. Lemurs simply are not in the habit of baring their teeth. (They do, for the record, seem to stick their tongues out quite often.) Second, when I finally did manage to find a picture of a lemur showing its teeth, I saw that the teeth weren't jagged. This isn't surprising, of course: lemurs are omnivorous and are primates, so like humans, they have sharp (but still not jagged) teeth in the front of their mouth and flatter teeth in the back.
Furthermore, lemurs are cute. They do not fend off predators by baring their teeth and scaring the shit out of the predators. They fend of predators by looking at the predators with their big, circular eyes and making the predators think, "Oh, he's so cuuuuuute! I couldn't possibly eat that!" The predator then slinks away, frustrated, and eats a nearby bastard big-footed mouse (yes, this is a real creature), because there are mice all over the damn place in Madagascar and because any creature with a name like "bastard big-footed mouse" obviously deserves to be eaten, unlike lemurs. So the logo for the Laredo Lemurs should have aimed for cute. I know that seems odd, but this is simply keeping in spirit with the name the team chose. Besides, who knows? Do it right and the logo might have the same effect on the opposing players as the actual animal has on predators. The team could win simply by cuting its opponents into submission. And who wouldn't pay to see that? Even if that's not worth your money, watching the opposing players get so frustrated that they grab a mouse and eat it certainly is.
Final Score: 7 points.
Penalties: Alliteration, 5 pts; Logo, 12 pts.
Bonuses: Name, -10 pts.
---
This page Copyright ©2013 Scott D. Rhodes. All rights reserved