| | | |
| --- | --- | --- |
| | Mobile BayBears | 98 |
---
Notice: All logos on this page are included within the parameters of 17 U.S.C. § 107, which states that the reproduction of a copyrighted work for purposes of criticism and/or comment is not an infringement of copyright. No challenge to the copyrights of these logos is intended by their inclusion here.
---
Posted 2018 July 4
One of my mother-in-law's hobbies is quilting. As a result, my wife and I have several quilts that my mother-in-law has made. She has a decent variety of fabrics that she uses for these quilts, and (as is befitting for quilts), she generally uses small pieces of these fabric.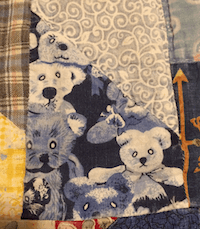 Have you ever noticed how sometimes a fabric pattern that seems perfectly normal when you see a small portion of it becomes bizarre when you see a big piece of the same fabric? Or perhaps you've noticed the opposite effect. This happens to my mother-in-law sometimes. She'll buy a piece of fabric that seems perfectly normal when she's looking at a square yard or so of it, but then when she cuts a small piece (say, a square two inches to a side), it looks...different. One particular piece of fabric she bought is fairly notorious on this front. She herself dubbed this pattern "the Teddy Bears of the Damned", and no one else sees any reason to argue with this name. I've never seen a large swath of this fabric so I have to take her word for it that it doesn't look as strange when you see a big piece, but it damn sure looks twisted when you get just a small piece.
Now that you've seen this picture, and gotten the concept of "Teddy Bears of the Damned" fixed firmly in your head, I want you to look again at the logo for the Mobile BayBears.
Of course, the BayBears logo is even worse. The Teddy Bears of the Damned are scary, but at least none of them are copulating with a baseball that's slightly larger than they are. Nor are any of them displaying a facial expression of...just what the hell is that facial expression, anyway? It seems to be part sexual ecstasy, part laughing at a practical joke it's just played on someone, part threat display. You know what that adds up to? Disturbing as hell, that's what.
As it turns out, the Mobile BayBears aren't going to be around much longer. The team has been sold, and will play the 2018 and 2019 seasons in Mobile and then move to Madison, on the other end of the state. I never celebrate the loss of a team in a city, and I won't make an exception here. But the logo? Yeah, I'll be glad to see the logo go away. I'll be absolutely thrilled.
Final Score: 98 points.
Penalties: Software, 27 pts; Compound, 34 pts; Alliteration, 5 pts; Script, 7 pts; Equipment, 13 pts; Logo, 12 pts.
Bonuses: None.
---
This page Copyright ©2018 Scott D. Rhodes. All rights reserved