Baseball
---
HOME
HOCKEY
OTHER
RULES
RANKINGS
HISTORY
---

TEAMS

Teams with asterisks are not yet posted

Aberdeen IronBirds*
Acereros del Norte
Águila de Veracruz*
Aigles de Trois-Rivières
Akron RubberDucks
Albuquerque Isotopes
Algodoneros de Unión Laguna
Altoona Curve
Amarillo Sod Poodles
Arkansas Travelers
Asheville Tourists
Augusta GreenJackets
Beloit Snappers
Billings Mustangs
Biloxi Shuckers
Binghamton Rumble Ponies
Birmingham Barons
Boise Hawks
Bowie Baysox
Bowling Green Hot Rods
Bradenton Marauders
Bravos de León
Brooklyn Cyclones
Buffalo Bisons
Capitales de Quebec
Carolina Mudcats
Cedar Rapids Kernels
Charleston Dirty Birds*
Charleston RiverDogs
Charlotte Knights
Chattanooga Lookouts
Chicago Dogs
Clearwater Threshers
Cleburne Railroaders
Columbia Fireflies
Columbus Clippers
Corpus Christi Hooks
Dayton Dragons
Daytona Tortugas
Delmarva Shorebirds
Diablos Rojos del México
Down East Wood Ducks
Dunedin Blue Jays
Durham Bulls
El Paso Chihuahuas
Erie SeaWolves
Eugene Emeralds
Evansville Otters*
Everett AquaSox
Fargo-Moorhead RedHawks
Fayetteville Woodpeckers
Florence Y'Alls
Fort Myers Mighty Mussels
Fort Wayne TinCaps
Fredericksburg Nationals*
Fresno Grizzlies
Frisco RoughRiders
Frontier Greys*
Gary SouthShore RailCats
Gastonia Honey Hunters
Gateway Grizzlies
Generales de Durango
Glacier Range Riders*
Grand Junction Rockies
Great Falls Voyagers
Great Lakes Loons
Greensboro Grasshoppers
Greenville Drive
Guerreros de Oaxaca
Gwinnett Stripers
Harrisburg Senators
Hartford Yard Goats
Hickory Crawdads
High Point Rockers
Hillsboro Hops
Hudson Valley Renegades
Idaho Falls Chukars
Indianapolis Indians
Inland Empire 66ers of San
Bernardino
Iowa Cubs
Jacksonville Jumbo Shrimp
Jersey Shore BlueClaws*
Joliet Slammers
Jupiter Hammerheads
Kane County Cougars*
Kannapolis Cannon Ballers
Kansas City Monarchs
Lake County Captains
Lake Country Dockhounds*
Lake Elsinore Storm
Lake Erie Crushers
Lakeland Flying Tigers
Lancaster Barnstormers
Lansing Lugnuts
Las Vegas Aviators
Lehigh Valley IronPigs
Leones de Yucatán
Lexington Legends
Lincoln Saltdogs
Long Island Ducks
Louisville Bats
Lynchburg Hillcats
Mariachis de Guadalajara
Memphis Redbirds
Midland RockHounds*
Milwaukee Milkmen
Mississippi Braves
Missoula Paddleheads*
Modesto Nuts
Montgomery Biscuits
Myrtle Beach Pelicans
Nashville Sounds*
New Hampshire Fisher Cats
New Jersey Jackals*
New York Boulders
Norfolk Tides
Northern Colorado Owlz
Northwest Arkansas Naturals
Ogden Raptors
Oklahoma City Dodgers
Olmecas de Tabasco
Omaha Storm Chasers
Ottawa Titans*
Palm Beach Cardinals
Pensacola Blue Wahoos
Peoria Chiefs
Pericos de Puebla
Piratas de Campeche
Portland Sea Dogs
Quad City River Bandits
Rancho Cucamonga Quakes
Reading Fightin Phils
Reno Aces
Richmond Flying Squirrels
Rieleros de Aguascalientes
Rochester Red Wings
Rocket City Trash Pandas*
Rocky Mountain Vibes
Rome Braves
Round Rock Express
Sacramento River Cats
Salem Red Sox
Salt Lake Bees
San Antonio Missions
San Jose Giants
Saraperos de Saltillo
Schaumburg Boomers
Scranton/Wilkes-Barre RailRiders
Sioux City Explorers
Sioux Falls Canaries
Somerset Patriots
South Bend Cubs
Southern Maryland Blue Crabs
Spokane Indians
Springfield Cardinals
St. Lucie Mets
St. Paul Saints
Staten Island Ferry Hawks*
Stockton Ports
Sugar Land Skeeters
Sultanes de Monterrey
Sussex County Miners
Syracuse Mets*
Tacoma Rainiers
Tampa Tarpons*
Tecolotes de los Dos Laredos*
Tennessee Smokies
Tigres de Quintana Roo
Toledo Mud Hens
Toros de Tijuana
Trenton Thunder
Tri-City Dust Devils
Tri-City ValleyCats
Vancouver Canadians
Visalia Rawhide
Washington Wild Things
West Michigan Whitecaps
Wichita Wind Surge
Wild Health Genomes*
Wilmington Blue Rocks
Windy City Thunderbolts
Winnipeg Goldeyes*
Winston-Salem Dash*
Wisconsin Timber Rattlers
Worcester Red Sox*
York Revolution

| | | |
| --- | --- | --- |
| | Modesto Nuts | 392 |
---
Notice: All logos on this page are included within the parameters of 17 U.S.C. § 107, which states that the reproduction of a copyrighted work for purposes of criticism and/or comment is not an infringement of copyright. No challenge to the copyrights of these logos is intended by their inclusion here.
---
Posted 2017 April 16
For as long as I can remember, I have been allergic to pecans.* It's not an anaphylactic reaction, but it's unpleasant enough in its own way: not long after they hit my stomach, the pecans will shift my stomach into reverse gear. I honestly don't remember a time that I didn't know that eating a pecan, or even a small part of one, would make me throw up.
When I was in first grade, everyone in my class had to do a project where we made something. It could be anything as long as it was physical. (I actually made an AM radio of all things, which would have been a lot more impressive had it not been impossible to get a signal in our classroom.) One of my friends made brownies. Like a lot of people, he thought browines should have pecans in them. But at some point in advance he asked the class if anyone was allergic, and I spoke up, and he asked if walnuts were okay, and I told him they were (because apparently the idea that I might be allergic to something and not know it was foreign to my six-year-old brain). So he made them with walnuts instead. You've probably guessed where this story is headed, and you're absolutely right. This was the day I discovered I was allergic to walnuts. Fortunately, I always have some warning of what's about to happen before it does, so I was able to make it to the bathroom in time. At least, that's how I remember it. My brain might have subconsciously changed a few details to spare myself some trauma. I also seem to remember that all of my classmates were concerned and not one of them laughed at me. So my brain probably has changed a few details.
From that day on I've just taken the attitude that I'm allergic to all nuts. I had already eaten plenty of peanuts by this time and knew they were fine, but that's the only exception I acknowledge. Hazelnuts? Never had one, but I'm fairly certain I'm allergic. Chestnuts? Same story. Cashews? Aren't they actually legumes, like peanuts? Doesn't matter. It's not worth it to me. I've gone forty-seven years without having one, so I'm fairly certain I won't miss it.
With all of this in mind, you'll probably understand when I say that when I first looked at this team's name and logo I didn't have quite the same immediate reaction of "Bwa ha ha ha ha ha ha! They named their team after food!" that I had when I first saw the logo for the Kansas City T-Bones or the Syracuse Crunch. I simply don't look at nuts and immediately think of food. Now, you may be thinking to yourself, "Hold on, man. Surely you're not about to tell me you like this logo." No. I'm just saying that it usually takes me a couple of seconds to realize that for most people nuts are food, so it took me a couple of seconds before I said "Bwa ha ha ha ha ha ha! They named their team after food!"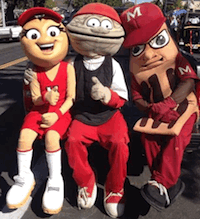 Shelley, Al, and Wally. Or Shelley, Wally, and Al. Hell if I know.

As you can see, the logo has two nuts in it. You may be wondering what kind of nuts. As best as I can determine, it's an almond and a walnut. At least, I assume so because the team has three mascosts — Al the Almond, Wally the Walnut, and Shelley the Pistachio — and neither of these two looks like a Shelley. Note that I didn't say neither of them looks like a pistachio. I have no idea what a pistachio looks like. I know what Shelley looks like because I found a picture online of Al, Wally, and Shelley. Pistachios? No clue. Nor do I know what an almond or a walnut looks like. Why would I? If it wasn't for the names of the mascots I'd have no idea what kind of nuts these were supposed to be. Hell, the only reason I know it's Shelley that's missing is because Shelley is a girl's name and Al and Wally are boy's names and one of the mascots is clearly intended to be female. I have no idea which one is Al and which one is Wally, so I also have no idea which one is the walnut and which one is the almond. If you want to help me out and let me know, feel free, but to be honest, I don't actually give a shit. They're nuts. I want nothing to do with them.

Of course, that's not the only way in which I want nothing to do with this logo. Do I even need to explain? Can we just agree that the problem with putting a baseball-playing, anthropomorphized walnut in a logo is obvious and I don't need to explain what the problem is? Good. Because I really want to wrap this review up and move on. If I keep looking at this logo much longer, I'm probably going to react in the same way as if I'd actually eaten a nut.



*
Now, before we go any further, let me get one thing off my chest. It seems to be an ongoing dispute among many people in the United States how one properly pronounces the word pecan. And for reasons that completely escape my ability to discern, this is serious business to a lot of people. It's such serious business that I shouldn't even say this is serious business. I should say this is serious business. I may need to underline it as well. I'm not sure. There are, for the record, four pronunciations in use. In IPA, they are /'pi kæn/, /'pi kɑn/, /pi 'kɑn/, and /pi 'kɑn/. Or, to use a writing more of you are likely to understand, "PEA can", "PEA con", "puh CON", and "pea CON". I'd tell you which pronunciation is more common where, but it's a little complicated and in most places there are two (or more) competing pronunciations anyway. But wherever you go one thing holds true, and this is the point I want to make: This is a stupid argument. You wanna pronounce it "PEA can"? Go right ahead. You prefer "puh CON"? That's fine, too. Seriously, you should never make fun of someone because of the way someone pronounces pecan. Save it for more important issues, like those freaks who pronounce aunt to rhyme with gaunt. That's just weird, people.


Final Score: 392 points.
Penalties: Humanoid (triply-egregious), 126 pts; Cartoon, 47 pts; Player (egregious), 103 pts; Name, 10 pts; Logo, 12 pts.
Bonuses: Local, -6 pts.

---

This page Copyright ©2017 Scott D. Rhodes. All rights reserved