| | | |
| --- | --- | --- |
| | Memphis Redbirds | 11 |
---
Notice: All logos on this page are included within the parameters of 17 U.S.C. § 107, which states that the reproduction of a copyrighted work for purposes of criticism and/or comment is not an infringement of copyright. No challenge to the copyrights of these logos is intended by their inclusion here.
---
Posted 2019 July 11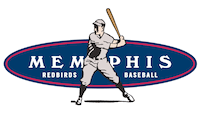 When I reviewed the Redbirds' previous logos, I lamented the fact that such a distinct city had a baseball team whose logo was so generic. It wasn't just that the logo lacked anything that said Memphis aside from the actual word "Memphis" in the logo. It was also that the logo lacked anything that said Redbirds aside from the actual word "Redbirds" in the logo.
This time, they've done so much better. First, the logo has, get this, an actual redbird in the logo. (And yes, it is a redbird and not just a red bird; for those who don't know, redbird is another name for the northern cardinal.) Second, the writing and some other portions of the logo — basically every part of the logo except for the cardinal itself — are done in a way to make it look like a neon sign.
You may be asking, is Memphis really known for neon? Not directly, but it is known for Beale Street, and if you've ever been to Beale Street at night, then you know that there's neon all over the damn place. Even the police building on Beale Street has a neon sign, and no, I'm not making that up. There are so many neon signs on that street that you could probably read from the light they give off. Of course, if you tried to do that everyone walking by you would think you were a tremendous nerd, because you'd be reading a book on Beale Street. All those blues venues, all those barbecue joints, and you're going to try to read? Oh, hell no. Put that book down and go see a band. I'm not saying you should never read, but there's a time and place for everything, and nighttime on Beale Street is not the time and place for reading. Come on, live a little.
The stadium where the Redbirds play is about two blocks north of Beale Street, and has its own neon signs. Yes, there's one for the Redbirds, and yes, those lines that look like neon lights on printed versions of the logo do indeed become actual neon on this sign. There's a similar sign for Memphis 901 FC, a new soccer team that has the same owners, plays in the same stadium, and has a similarly neon-friendly logo.
If I'm honest, I kind of like the soccer team's logo more. The name is a bit generic ("901" simply refers to the area code in and around Memphis), but that gives them a little freedom to play around, and they took the opportunity to create a logo which at first glance seems abstract but then you look a little closer and you realice it hints at a vinyl record, with the zero in "901" being the label. The Redbirds, having an actual name, needed to stick a little closer to that name when they made the logo. That said, the Redbirds have a very good logo for a team named the Redbirds. More importantly, they have a very good logo for a team called the Memphis Redbirds.
Final Score: 11 points.
Penalties: Script, 7 pts; Diamond, 16 pts.
Bonuses: Logo, -12 pts.
---
This page Copyright ©2019 Scott D. Rhodes. All rights reserved