| | | |
| --- | --- | --- |
| | Omaha Storm Chasers | 18 |
---
Notice: All logos on this page are included within the parameters of 17 U.S.C. § 107, which states that the reproduction of a copyrighted work for purposes of criticism and/or comment is not an infringement of copyright. No challenge to the copyrights of these logos is intended by their inclusion here.
---
Posted 2014 July 21
I'm surprised DC Comics hasn't sued this team.
As I've mentioned before, I'm not into comic books but I do have a passing familiarity with some superheroes, owing to having several friends who are very much into comic books and to having watched the execrable Superfriends TV show back in the 70s. (You might think that all the superhero movies in recent years would explain my familiarity with superheroes. You'd be wrong; I almost never watch movies.) And so when I looked at the Storm Chasers logo, I immediately thought that the circle/lightning bolt icon behind the name looked vaguely like the logo of some superhero.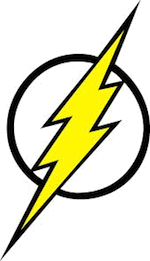 I was wrong. There is nothing vague about the way this looks like the logo of some superhero. It's a fairly direct ripoff of the logo for the Flash. Sure, there are a few differences, but those differences are details for the most part.
I understand why their logo is an abstract symbol. Storm chasers, unlike storms themselves, are easy to represent, but the result isn't all that intimidating. The most noteworthy feature of a storm chaser is the vehicle he drives in to chase the storm. Sometimes these vehicles are pretty kick-ass (some of them look like what the Batmobile would be if it was an SUV instead of a car), but a lot of times they're just standard SUVs or cars. And I'm not going to suggest that the solution here is to pick a different name like I normally would. "Storm chasers" is a good name. It implies bravery, speed, nimbleness, interest in science, and complete and utter insanity; all of these are admirable traits. Furthermore, since Omaha is in the middle of "Tornado Alley", there are a lot of storm chasers in the area. On top of all that, the name is original; I'm unaware of another team named after storm chasers. So I do think they should keep the name, and for the previously mentioned reasons I do think an abstract logo is a good idea.
That being said, they did go a bit overboard. I'm not sure how well you can see it in the logo on this page, but the lightning bolt motif has been worked into half of the letters in the words "Storm Chasers" in the logo. I could see working it into the initial "S" and the "C", but this is overkill. The two-tone effect on the letters in "Storm Chasers" is also strange. I'm not sure why it's there, unless someone in the front office told the designer, "Our team colors are blue and gold. You need to get more gold in there somehow." Both the lightning bolt motif and the two-tone effect carry over to the jersey numbers as well, for what that's worth.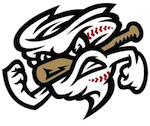 But still, I have to give them credit for not putting a tornado with eyes in the logo. Oh, wait, I just looked at their cap insignia. They actually do have a tornado with eyes in their cap insignia, and to make matters worse the tornado also has baseball stitches and a baseball bat for a nose. And just in case that wasn't enough, the tornado is shaking a fist in a threatening fashion at us. If that was actually their logo they might break a hundred points for it. Fortunately for them, I only score the official logo. Is it too late to include cap insignia in the scoring? Okay, fine, they get away with it. But only because I can't be bothered to go rescore a hundred other logos.
Final Score: 18 points.
Penalties: Letter, 24 pts.
Bonuses: Local, -6 pts.
---
This page Copyright ©2014 Scott D. Rhodes. All rights reserved