| | | |
| --- | --- | --- |
| | Rocky Mountain Vibes | 225 |
---
Notice: All logos on this page are included within the parameters of 17 U.S.C. § 107, which states that the reproduction of a copyrighted work for purposes of criticism and/or comment is not an infringement of copyright. No challenge to the copyrights of these logos is intended by their inclusion here.
---
Posted 2019 May 9
Ladies and Gentlemen, we are going through a national crisis. You already knew this, of course. You've seen the new team names that have debuted in recent seasons. Hartford Yard Goats. Florida Fire Frogs. Binghamton Rumble Ponies. And Amarillo, in an assault on all that is decent in this world, has named its new team the fricking Sod Poodles. No one can deny that these are dark times.
And then it came to light that the new team in Colorado Springs had announced a Name The Team contest, and the finalists were "Happy Campers", "Lamb Chops", "Punchy Pikas", "Throttle Jockeys", and "Rocky Mountain Oysters". And suddenly the question that had seemed so hyperbolic before now seemed a reasonable question to ask: "Can the Republic survive this?"
Then we learned that the team in Colorado Springs had rejected all these names, and we rejoiced...for three seconds. Because three seconds later we saw what they actually went with.
A drug-reference with hot pink flames in the logo.
The team, I have no doubt, desperately wants us to believe the name comes from the much-vaunted, highly vague "vibe" one gets from living in the Rocky Mountains. You know, the same sort of feeling that John Denver wrote about in a song called...oh, yeah! Sure, totally innocent. Nothing to do with Colorado's recent decision to legalize, um, "craft cigarettes". No, sirree. Yeah, right! Their logo is a stick on fire. What else is effectively a stick on fire? And if it's not a drug reference, why the psychedelic hot pink flames? They can claim it's about clean mountain air all they want. I'm not buying it.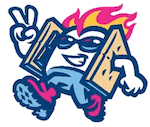 If you're still buying it for some reason, let me just point out that their mascot is a s'more. His name is "Toasty Smore". He appears on the team's cap. His hair isn't just on fire, it is fire (with hot pink flames, of course). He's wearing sunglasses and is making a peace sign with his right hand. And just so we're clear on this, this is a very poorly-made s'more. For one thing (although this is a fairly minor point), on a properly made s'more the marshmallow is supposed to be squished flat. But more importantly, the marshmallow is on fire. Now, we all know that when you're in the toasting-the-marshmallow portion of making a s'more, sometimes the marshmallow catches fire. No big deal. But I do believe the proper contingency plan for a marshmallow-on-fire situation is to put out the damn fire before you stick the marshmallow between the graham crackers. Whoever made this s'more didn't do that. Why? Probably because the person who made this is high as a motherfucking kite. Because as the name indicates, this is all one big drug reference. Someone got the munchies and decided to make a s'more and the marshmallow caught fire (which happens to sober people but probably happened to this guy because he's high and was too busy staring at the flames), and the obvious thing to do is blow the damn fire out but he figures he can just eat the thing while it's on fire because like I said he's high as a motherfucking kite and so he's just going to put a burning marshmallow between a couple of graham crackers (I'm surprised he remembered the chocolate) and he's probably going to singe his fingers and he's definitely going to burn his mouth to a crisp and he's not even going to feel pain because, I stress for the third time, this crazy son of a bitch is as high as a motherfucking kite.
Just say no, kids...just say no.
Final Score: 225 points.
Penalties: Region (septuply-egregious), 77 pts; Letter, 24 pts; Colorful (egregious), 63 pts; Irrelevance, 39 pts; Name, 10 pts; Logo, 12 pts.
Bonuses: None.
---
This page Copyright ©2019 Scott D. Rhodes. All rights reserved