| | | |
| --- | --- | --- |
| | South Bend Cubs | 78 |
---
Notice: All logos on this page are included within the parameters of 17 U.S.C. § 107, which states that the reproduction of a copyrighted work for purposes of criticism and/or comment is not an infringement of copyright. No challenge to the copyrights of these logos is intended by their inclusion here.
---
Posted 2019 May 16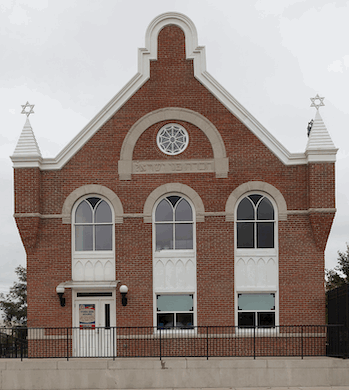 To the right you will see a picture of the South Bend Cubs' team store. You may be thinking, "Um, that...that doesn't look like a store." And you'd technically be wrong, because it is a store and "what a store looks like" is defined by, um, stores and what they look like. What I'm saying is that on some level it's impossible for a store to not look like a store.
"But," you might be saying, "that store looks like a synagogue." And you might further argue that since synagogues don't look like stores, this must not actually look like a store. And if I was in a good or even halfway decent mood, I'd agree. But if I was in just the wrong mood, I might try to make some hopelessly convoluted argument that you're being anti-Semitic, because as I already said stores look like stores, and based on the transitive property if you're saying a store looks a synagogue then you're saying synagogues look like stores, and that's plainly not true because synagogues look like synagogues, and given the centuries of negatives stereotypes about Jews it's the most insulting thing imaginable to say synagogues look like stores, and aren't you ashamed of yourself? And I'm not sure precisely what you'd say in response to that, but I think I do know what you'd think. You'd think that I was being an asshole. And you'd be right. Fortunately, I rarely get in that mood.
And since I'm not in that mood right now, let me just say: yeah, it looks like a synagogue and not like a store. And there's a very good reason for that, which is that the building used to be a synagogue. It was built in 1901 and served as home to the B'nai Israel (later B'Nai Yisrael) congregation until 1990. The building is on the National Register of Historic Places, and as such the store is likely the only team store in the United States that's located in a NRHP building (or at least, the only one located in a NRHP building that isn't a ballpark).
As for why the team store is in a former synagogue, it's because it's next door from the stadium. If you're sitting in the stands along the first base line you'll see it beyond left field. It's the building with the ad for Toyota on its roof. No, I'm not making that up. The team (then known as the South Bend Silver Hawks) moved into the then-new stadium in 1988, and renovated the former synagogue in 2012. I'm sure some people reading this have a problem with the idea of a team store in an old synagogue, and I can see where they're coming from, but all things considered I think it's a good thing. Remember, the congregation had left the building over twenty years earlier, so it's not like the team kicked them out. And aside from a brief period in the mid-aughts where the building had been used as a private residence, it had sat empty for those twenty years. Being used as a store may not be the most respectful fate for a synagogue, but it beats sitting empty and falling into disrepair.
The Silver Hawks changed their name in 2015 when they switched their affiliation from the Arizona Diamondbacks to the Chicago Cubs. I suppose I can understand why, seeing as how Chicago is less than two hours away. And it's not like Silver Hawks was such a great name in the first place. But it's always a little disappointing to see a minor league team just brand itself with its parent team's name. The logo is also little more than the Chicago Cubs' logo, the only difference being a circle added on the outside which says "South Bend" and has some leaves on the bottom half for some reason that escapes me. I guess they just decided it needed something to balance out the name on the top half. They're probably right. They probably could have come up with something better than leaves, though.
Oh, one last thing about the synagogue. Well, it's not really even about the synagogue, actually. It turns out the store isn't the only former synagogue on the same block as the ballpark. If you stand in the parking lot that runs parallel to the third-base line and turn to your left, you'll see Sweet Home Ministry, whose building was the original home of the Hebrew Orthodox Congregation in South Bend. Also, if you're sitting in the stands along the third base line and look ahead, you can see Zion Hill Missionary Baptist Church, which as best as I can tell was built to be a church.
So if either of those churches ever close or move and the team needs to expand its store, they have options, and it won't be any more blasphemous than anything they've already done.
Final Score: 78 points.
Penalties: Offspring, 12 pts; Equipment (doubly-egregious), 42 pts; Letter, 24 pts.
Bonuses: None.
---
This page Copyright ©2019 Scott D. Rhodes. All rights reserved