| | | |
| --- | --- | --- |
| | Schaumburg Boomers | 84 |
---
Notice: All logos on this page are included within the parameters of 17 U.S.C. § 107, which states that the reproduction of a copyrighted work for purposes of criticism and/or comment is not an infringement of copyright. No challenge to the copyrights of these logos is intended by their inclusion here.
---
Posted 2014 May 17
There's something about the name "Schaumburg" that just conjures images of a small town (maybe in the range of five to ten thousand) somewhere in the Rust Belt but not near any of the big cities. Central Pennsylvania, maybe? Northcentral Ohio? The fact that the city has a team named "Boomers" strengthens this thought. Without looking it up you probably have no idea what a "boomer" is (you may have considered and immediately rejected the notion that this was a reference to a certain generation renowned for its self-centeredness), but if you had to guess then you'd probably go with it being the local name for some kind of wildlife. There's no telling what kind of wildlife — it could be a fish, a bird, or even some kind of mammal — but you think that's a reasonable guess because this is probably an area with lots of wildlife around. All in all, you get the impression that Schaumburg is definitely a bucolic town that's probably not too far from an Amish village.
Well, forget that. Schaumburg is a suburb of Chicago, and as the crow flies it's about ten miles away from O'Hare International Airport. Unless your idea of "bucolic" involves taxicabs and skyscrapers, Schaumburg does not meet your idea of bucolic. (And if your idea of "bucolic" does involve taxicabs and skyscrapers, may I humbly suggest you look the word up in a dictionary?) As a percentage of the city's total area, I think Schaumburg has less undeveloped land than Washington, D.C., and I'm actually not kidding or exaggerating when I say that. As for the "boomer"? Well, it is indeed the local name for the greater prairie chicken, but good luck actually finding a greater prairie chicken within a hundred miles of Schaumburg today. Once upon a time, there were boomers in Schaumburg, but today, the vast majority of its range is in Kansas, Nebraska, and the Dakotas. When you consider the fact that the Schaumburg Boomers are only in their third season, it's pretty obvious that the team was hearkening back to a much, much earlier time than when they picked that name.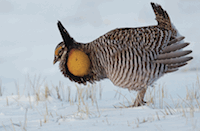 I should stress that I'm not criticizing them on this point. Lots of teams reach way back when picking a team name. And as you can probably guess from looking at the logo, boomers look pretty cool. Here, look at this picture of one freezing his ass off in the snow. That's way cooler than you expect a freaking chicken to look.
The logo is, for the most part, standard logo fare, and again, I don't mean that as a criticism. This isn't some silly, cartoony drawing of a boomer, but rather a smartly-drawn, stylized version. The bird has a facial expression which exudes confidence. This probably isn't realistic (a real boomer would likely start fleeing the moment it saw you), but you don't need absolute realism when your team is named after a chicken. As for the erect tufts on either side of its head (no, those aren't ears), the picture above should make it clear that those are perfectly realistic.
The only real downside in the logo is the pair of bats. They're unnecessary, and are responsible for the vast majority of the team's logo-related points (including the "Humanoid" penalty since the boomer is somehow holding these bats). But even these aren't too problematic, seeing as how they blend into the general color scheme fairly well.
Simply put, there are a lot of teams in minor league baseball that I think would be well-served by ditching their current logo and picking something more like this one.
Final Score: 84 points.
Penalties: Scenery, 11 pts; Equipment (egregious), 27 pts; Diamond, 16 pts; Humanoid, 30 pts.
Bonuses: None
---
This page Copyright ©2014 Scott D. Rhodes. All rights reserved