| | | |
| --- | --- | --- |
| | Southern Illinois Miners | 53 |
---
Notice: All logos on this page are included within the parameters of 17 U.S.C. § 107, which states that the reproduction of a copyrighted work for purposes of criticism and/or comment is not an infringement of copyright. No challenge to the copyrights of these logos is intended by their inclusion here.
---
Posted 2013 August 26
In the United states, when you think of coal you probably think of either Kentucky or West Virginia, or maybe Pennsylvania. You don't necessarily think of Illinois. It may surprise you, then, to learn that there are coal reserves under a bigger percentage of Illinois than Kentucky. Basically, if you're in Illinois and you're not near Chicago or the Mississippi River, you're over a coal deposit. Meanwhile, with the exception of a small patch near the Illinois border, there's no coal in the western two thirds of Kentucky. There's actually quite a history of coal mining in the southern part of Illinois. That's why this team went with the name "Miners". It's not the most imposing name, but it fits the area. More importantly, they avoided the temptation to call themselves the Southern Illinois Coal Kings, which would have been incredibly lame even if it did result in a fairly nifty set of initials.
That's not to say they have avoided lameness in every aspect. Their logo, for starters, is ridiculous. A miner with a thick, grey beard and arms that scream "steroid abuse" is holding a baseball bat that's been jury-rigged into being a pick axe, and he's swinging (left-handed...what is it with all the left-handed logos, anyway?) at a baseball bat which is embedded in coal. Ho hum, how original.
And then there are the mascots.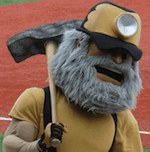 The mascots (note the plural) are either the most awful collection of mascots I've ever seen or the most awesome collection of mascots I've ever seen. Well, truth be told, they're probably both, because I don't think I've ever seen a team that had enough mascots to count as a "collection" before. The Miners have four, count 'em, four mascots. The first one is "Big John the Miner". That's a nice, basic mascot for a team called the Miners. It's hard to go wrong with a team called the Miners having a mascot who is a miner. But it quickly goes downhill.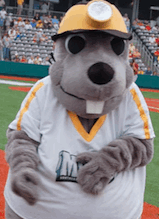 Next we have "Grounder the Mole". Okay, so it hasn't gotten too bad yet, but this is a bit goofy. Moles, remember, have nothing to do with mines. Sure, they burrow around a lot and make tunnels just like miners do, but moles aren't making tunnels in coal mines. They're making tunnels in my back yard. There's not a coal mine within a hundred miles of my back yard. I get the thinking here, but they were reaching a bit. Couldn't they come up with something that relates more directly to mines? Like, oh, I don't know...
How about a canary? Yes, ladies and gentlemen, the next mascot is indeed the canary in the coal mine. His name is "Lucky the Canary", and if he hasn't fallen down dead yet then I guess we have to accept that he is indeed lucky. He's lucky I'm not in charge of the mascots, that's for certain. If I were in charge of the mascots (and here's some helpful advice to any team owners reading this: don't ever put me in charge of the mascots), then the first time the team was having a bad season I'd have "Lucky" die in a dramatic fashion during the seventh-inning stretch one night to send a message to the players. And I'd go overboard with it. I'd have six other people dress up in canary outfits, walk out to the now-deceased Lucky carrying a coffin, set Lucky in the coffin, and carry him back to the musical accompaniment of the second movement of Beethoven's Seventh.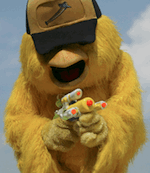 I know you don't actually get a coffin for a dead canary, but...well, what do you do, anyway? They're a bit too small to cremate (which is what my wife and I did for the three pets of ours who have died), but I think flushing down the toilet is reserved for bugs you've squished and the occasional goldfish. I actually tried to find out on the internet, and the results were more comical than they should have been. I ran across a Yahoo! Answers question about it. One person suggested — this was the answer with the most votes, in fact — "put his body into a sealable plastic bag, and put the bag in the garbage." To my way of thinking, flushing it down the toilet is almost more respectful. More than one person mentioned making sure the bird wasn't dead, which conjured in my mind images of John Cleese in the "Dead Parrot" sketch ("HELLO, MISTER POLLY PARROT!") as well as the joke that ends with the punchline, "BANG! 'Okay, now what?'"
(The generally-accepted answer, incidentally, seems to be that you bury it.)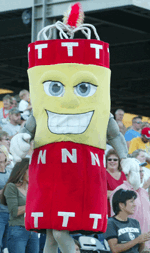 For our last mascot — I promise you I am not making this up — there is "T.N.T. Dynamite". Yes, dear reader, we have a team that uses a bundle of explosives as a mascot. T.N.T. looks like a bundle of red dynamite sticks with a yellow band about two thirds of the way up, and on the band is a face that looks like Spongebob Squarepants on the day he goes postal and starts mowing down all of his coworkers (and I think we all know that day is coming; it's a question of when, not if). There are fuses coming out of the top, and they all meet at the top to form a bizarre crown of sorts. A crown of death. I know the link between TNT and mining is unquestionable, but this is still a truly bizarre mascot.
But you know what? I just came up with a great idea on precisely how we make Lucky die that dramatic death.
Final Score: 53 points.
Penalties: Region, 8 pts; Player, 51 pts.
Bonuses: Local, -6 pts.
---
This page Copyright ©2013 Scott D. Rhodes. All rights reserved