| | | |
| --- | --- | --- |
| | San Jose Giants | 81 |
---
Notice: All logos on this page are included within the parameters of 17 U.S.C. § 107, which states that the reproduction of a copyrighted work for purposes of criticism and/or comment is not an infringement of copyright. No challenge to the copyrights of these logos is intended by their inclusion here.
---
Posted 2009 June 7
It must be humbling living in San Jose. San Jose is the third largest city in California (after Los Angeles and San Diego). It's the largest city in a combined metropolitan area with San Francisco and Oakland. Yet San Jose always seems to play third fiddle to these other two cities. San Francisco is the major tourist attraction. San Francisco has two major league teams and Oakland three; San Jose only has one, and it's the hockey team which, let's face it, is much lower on most Americans' list of priorities than football, baseball, and basketball. (San Jose does have an MLS team as well, but Americans' interest in soccer makes their interest in hockey look like an obsession.) On some cosmic level, San Jose is the spiritual twin of the town of Rodneydangerfield, New Jersey.
Serving as salt in this wounded pride is the fact that San Jose's minor league baseball team isn't Triple-A or even Double-A. No, they have to settle for a Single-A team, although they at least have an "Advanced" Single-A team. (I guess that if you have to settle for a fourth-rate team, it's at least some consolation to know it's in the GT class.) Even more galling, their Single-A team is affiliated with the major league team in one of the smaller cities in the metro area. And as if that wasn't enough, the final insult is that the team simply uses the same name and essentially the same logo as that major league affiliate.
Using the name of parent teams generally strikes me as a mistake, but it seems particularly foolish in a case like this. If you're in San Jose and someone asks if you want to go to the Giants game this weekend, are you going to assume he means the San Jose Giants or the San Francisco Giants? My guess is you're going to assume the San Francisco Giants. This means the person inviting you is setting you up for confusion and disappointment if it turns out he meant the San Jose Giants. It's hard enough for a minor league town in a major league city to develop its identity in the first place. Making it share a name and logo with a much more important team nearby isn't helping any.
I could understand doing this if it was a great logo. It isn't. It's standard BIC fare. Worse yet, they feel the need to insult our intelligence by putting the words "baseball club" below the baseball. Guys, we're not stupid. There is a baseball in your logo. With that fact alone, we can figure out that this is a baseball team. We don't need you to spell it out for us. I'm sure someone will try to defend the inclusion of these words as providing compositional balance in the logo (since "San Jose" is above the baseball), but it doesn't. You've got seven letters above the baseball and twelve below, and furthermore the word "Giants" curves down in such a way that those twelve letters are crammed into a smaller space than the seven letters above. If you look closely at the logo you can even see that there's less space between the letters in "baseball club" than in "San Jose". They could have left "San Jose" above the baseball and put nothing below, and it would actually have been more balanced than it is now.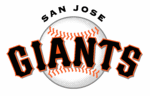 Don't believe me? Just look to the right and judge for yourself. I think it looks more balanced that way. Trust me. I know imbalanced when I see it, because it takes one to know one. They could have done much better by leaving the words "baseball club" out of the logo.
Or better yet, they could have picked a new logo, and maybe even a new name. That would be the respectful thing to do. And it looks like San Jose could use all the respect it can get.
Final Score: 81 points.
Penalties: Offspring, 12 pts; Equipment, 13 pts; Obvious, 17 pts; Irrelevance, 39 pts.
Bonuses: None.
---
This page Copyright ©2009 Scott D. Rhodes. All rights reserved