| | | |
| --- | --- | --- |
| | Saraperos de Saltillo | 68 |
---
Notice: All logos on this page are included within the parameters of 17 U.S.C. § 107, which states that the reproduction of a copyrighted work for purposes of criticism and/or comment is not an infringement of copyright. No challenge to the copyrights of these logos is intended by their inclusion here.
---
Posted 2015 June 7
Sarapero is another one of those made-up words you sometimes see in sports, like Steeler or Laker or CornBelter. It's not really a recognizable word in any context other than the team's name. In the case of the English words I just listed, they don't even follow the normal rules of English: a suffix generally used on verbs has instead been added onto a noun. From what little I can gather on the interwebs, there's nothing unusual about adding the suffix -ero to the end of a noun in Spanish. It might even be an actual word (it would mean "one who makes sarapes" if it was). But if you google sarapero the only thing you'll see are references to the team. Well, that and a Twitter feed for someone named Sara Pero.
A sarape, incidentally, is a blanket with a hold in the middle for a person to stick his head through. You've seen pictures of people wearing them, I'm sure. It's apparently one of the things that Saltillo is known for in the same way that Pittsburgh is known for steel or Chicago is known for corruption. So I suppose if you think that the name "Pittsburgh Steelers" makes sense, then you probably think "Saraperos de Saltillo" makes sense as well. Me, I've never figured out whether I think "Pittsburgh Steelers" makes sense, so don't ask me what I think of this one.
Incidentally, sarapes are not the only thing Saltillo known for making. It's also known for making cars. This has apparently earned it the nickname "The Detroit of Mexico". I'm sure that once upon a time that sounded like a flattering comparison, but I going to go out on a limb and guess that's a nickname they don't use in their Chamber of Commerce brochures anymore.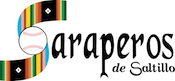 The nice thing about the name "Saraperos" is that it's easy to see what to do with your logo: you put a sarape in it. And before this season, that's exactly what they did, as the logo to the right demonstrates. However, that apparently made a little bit too much sense, so this year they debuted a logo which has just the barest hint of a sarape in it. See those stripes stuck inbetween the curves of the capital S on the new logo? That's the sarape. Or maybe it's a Guinean flag. I'm not really sure. Look, I understand that the old logo was kind of busy and hard to reproduce, and maybe it was just time for a change anyway, but was this really the best you could do? There has to have been a way to convey the idea of a sarape that actually looked like a sarape but wasn't quite as complex as the old logo. And even if there isn't, there has to be a way to make a logo that doesn't look like the front of a high school sports jacket. Seriously, guys, throw this logo out and start over. This just doesn't cut it.
Final Score: 68 points.
Penalties: Ers, 26 pts; Alliteration, 5 pts; Script, 7 pts; Letter, 24 pts; Logo, 12 pts.
Bonuses: Local, -6 pts.
---
This page Copyright ©2015 Scott D. Rhodes. All rights reserved