| | | |
| --- | --- | --- |
| | Somerset Patriots | 5 |
---
Notice: All logos on this page are included within the parameters of 17 U.S.C. § 107, which states that the reproduction of a copyrighted work for purposes of criticism and/or comment is not an infringement of copyright. No challenge to the copyrights of these logos is intended by their inclusion here.
---
Posted 2016 August 13
This past January, I started a new job, and as a result of that I spent the last week of January and first week of February in the Philadelphia area for training. Since I'm not a fan of chain restaurants and since I wanted to try a lot of new things, pretty much every night involved finding a restaurant that sounded interesting, entering it into the map app on my phone, and following directions. And missing turns, because I was completely unfamiliar with the area (it was my first time in the Philly area).
Because I was quite a ways out in the suburbs, a wrong turn could mean winding up in a fairly rural area. (You'd think there wouldn't be farmland that close to Philadelphia. You'd be wrong.) So one night I missed my turn, and suddenly I was in the middle of nowhere. When I say the middle of nowhere, understand that what I'm saying is that the road itself was the only sign of civilization. I didn't see houses, I didn't see stores, I didn't see anything except the road and snow-covered hills. In the day this might have been inspiring. At night it was unnerving. The map kept telling me to do a U-turn, but given that the snow that had been plowed off the road was piled up anging out in meter-high snowbanks where the shoulder should have been, this didn't seem like a wise move. So I kept going. There had to be an intersection I could use to make a U-turn eventually, right? Or a lone house whose driveway I could use to manage a three-point turn? But I didn't see anything. I kept driving.
Eventually I got to an intersection. But now I had travelled so far that the map wasn't telling me to turn around, it was telling me to turn left. Well, I figured, why not. There was no real advantage to turning around, so off I went, into the darkness. It was still just as desolate as before.
And then, out of nowhere, I came upon this: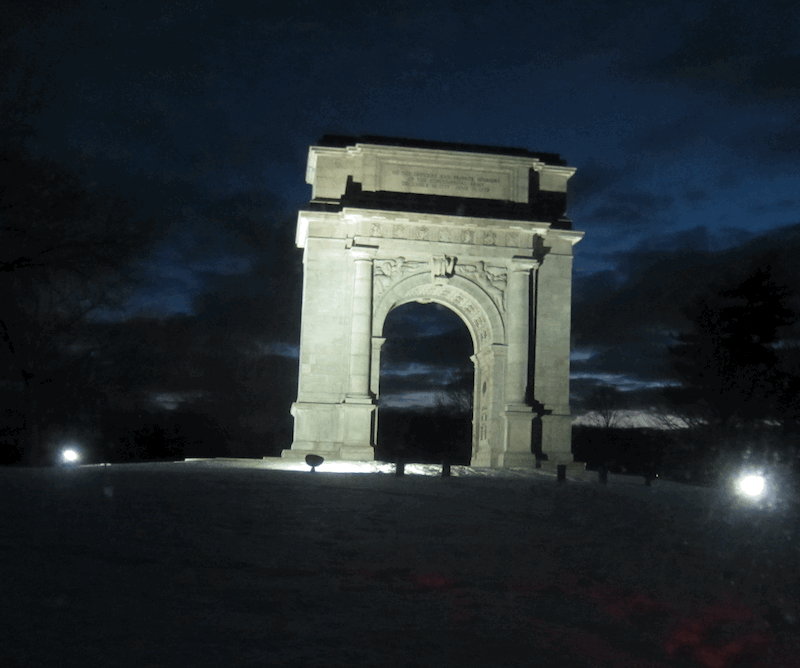 What I didn't realize at the time was that the reason there were no houses or businesses is that I had inadvertantly turned into Valley Forge National Park. I had known it was somewhere in the general vicinity, but I was too focused on dinner to realize it was literally across the street when I made that wrong turn, and thus in making that wrong turn I turned into the park. The monument I saw was the National Memorial Arch, dedicated to all the soldiers and officers who had spent the winter of 1777-78 in Valley Forge.
To call that moment awe-inspiring is perhaps an exaggeration, but not much of one. It was utterly unexpected, and utterly beautiful.
---

You may be thinking to yourself, that's a nice story, but what does a monument in Pennsylvania have to do with a baseball team in New Jersey? It has to do with inspiration, dear reader. I've never particularly thought of battlefields as particular inspiring places. I mean, people die there, right? For all the romance we instill into being willing to die for one's country, it's the willingness that inspires the romance. The actual dying part is a lot messier. It doesn't help that I live in an area where most of the battlefields are from the end of the Civil War and thus not particularly inspiring no matter which side you support (most battles here could be summed up as "the Confederates were retreating and the Union soldiers were burning everything they could find that wasn't made of asbestos"). But when I was in Philadelphia and had the opportunity to visit some places associated with the Revolution (I spent Saturday visiting Independence Hall; Sunday I gave Valley Forge a proper visit), I realized that in fact such places could be inspiring. I probably wouldn't have been impressed with this logo a year ago. Today, I am.

You may also wonder whence the name. Were there really that many battles in New Jersey? Um, yeah. Only the much bigger (both in terms of area and population at the time) states of South Carolina, Virginia, and New York saw more battles. By far, New Jersey saw the most battle per acre and the most per capita. And in the case of Bridgeport Township, where this team is located (they're called "Somerset" because Bridgeport Township is in Somerset County), there's the fact that the first time a United States flag was raised, it was less than two miles from where the stadium sits today. With that in mind, I like almost everything about this name and logo. Naming yourself after patriotism often seems like a cynical attempt to get people to like you by being flag-wavers, but here I think it's legit. Sticking an actual flag in your logo also seems like a cynical move, but given the history, how could they not? And the man in the tri-corner hat...well, of course you're going to put a patriot in the logo of a team called the Patriots.

But they had to screw it up, didn't they? You know exactly what I'm talking about. It's that damned baseball bat. Not only is it totally unnecessary, not only does it detract from the appearance of the patriot just by being there, but it's also being held in the most ridiculous position imaginable. Imagine a left-handed batter trying to bunt the ball while keeping both his hands in the same spot he would to swing at it. That's exactly how this bat is beind held.

That bat is really the only flaw here, but it's a fairly big flaw if you ask me. They really need to get rid of it. Do that, and you've got near perfection on your hands.

Final Score: 5 points.
Penalties: Region, 8 pts; Equipment, 13 pts.
Bonuses: Name, -10 pts; Local, -6 pts.
---
This page Copyright ©2016 Scott D. Rhodes. All rights reserved