| | | |
| --- | --- | --- |
| | Scranton/Wilkes-Barre Railriders | 201 |
---
Notice: All logos on this page are included within the parameters of 17 U.S.C. § 107, which states that the reproduction of a copyrighted work for purposes of criticism and/or comment is not an infringement of copyright. No challenge to the copyrights of these logos is intended by their inclusion here.
---
Posted 2021 July 25
There is nothing I understand about this team's name or logo. Nothing.
I do not understand why they go with the unwieldly "Scranton/Wilkes-Barre" as their location name. It is not completely ludicrous, insofar as there is a "Scranton" and a "Wilkes-Barre" near where this team plays. But there is not a "Scranton/Wilkes-Barre". Nor should there be; names should not require that many punctuation marks. Scranton is the biggest city in the region, so they could presumably go with that if they wanted even through they don't actually play within Scranton city limits (their stadium is in the town of Moosic, which is between Scranton and Wilkes-Barre). They could go with Moosic since that's where they actually are. Or they could go with "Wyoming Valley", which is apparently how the region is generally referred to. (And truthfully, that's one more thing I don't understand: you would expect the river going through the Wyoming Valley to be the Wyoming River, but in fact it's the Lackawanna River.) In any case, "Scranton/Wilkes-Barre" is just bizarre.
But as it turns out, they're not alone in this unwieldly appellation. The hockey team nearby reverses the two and calls itself the Wilkes-Barre/Scranton Penguins. Two teams that folded in recent years are the Scranton/Wilkes-Barre Steamers basketball team and the Wilkes-Barre/Scranton Pioneers indoor football team. In theory, there's supposed to be safety in numbers. This time I'm making sure there isn't. See, I can actually punish them for this, because the fact that the area is generally referred to as "Wyoming Valley" makes "Scranton/Wilkes-Barre" a made-up compound word. Which is a penalty. And since it's the location name rather than the nickname that's a compound word, it's an "egregious" example in my book. Oh, wait: the nickname (which we'll get to in just a moment here) is also a made-up compound word, which makes it doubly egregious.
I also do not understand why they chose a name like RailRiders. Now, it is true that Scranton has a connection to the rail industry. The Lackawanna Steel Company, located in Scranton, made railroads. As in, they made the actual rails that railroad companies would lay to create the railroads. Okay, fine, but what has that got to do with riding railroads? There were passenger railroads in the area at one time, but you can say that about plenty of places. Today, if you want to be a passenger on a train and are in the Wyoming Valley area, you have to drive over an hour to hop on a commuter train between Quakertown and Philadelphia. Why not just call the team the Railroaders? Or the Locomotives? I'm not saying these are great names (particularly Railroaders), but they'd definitely be an improvement.
But if I sort of don't understand the name, I really do not understand the logo. Why, oh why is there a porcupine in this logo? According to the team, it's because when they held a "Name the Team" contest they allowed voters to pick their top three choices in order, and while "RailRiders" got the most #1 votes "Porcupines" was in the top three more than any other name. I'm skeptical, because I'm always skeptical of Name the Team contests (with good reason, I might add). I suspect someone just wanted to stick a porcupine in the logo for reasons I can't even begin to imagine and would rather not try to. Also, it's not just a porcupine. This porcupine is as wide as the tracks. Assuming standard gauge rails, that makes it thirty or forty times the size of a typical porcupine. It looks like it's literally riding the rails, with its feet in direct contact with the rail. I won't pretend to understand how this is possible.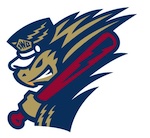 Nor do I understand the alternate logo. The alternate logo again features a porcupine, except that he's now dressed up as a train porter and holding a baseball bat, presumably to beat the absolute shit out of anyone he finds who doesn't have a ticket. This is the stuff of nightmares, reader. First of all, the idea of a human-sized porcupine is horrific. Then there's the fact that the porucpine is the porter for a train that looks like a porcupine. That's some pretty freaky Inception-type shit right there. Oh, and there's a lightning bolt painted onto the bat. Why? Don't ask me; I already told you there is absolutely nothing I understand about this team's logo, and that extends to the alternate logo. Is the bat somehow electrified? Given the look of gleeful menace on the porcupine's face is, I'm not ruling it out. Also, I'm far from convinced this "porter" actually cares whether you have a ticket. He'll beat you up even if you have a ticket, just for the masochistic joy of it.
Seriously, what sort of absolute lunatic would come up with this name and logo? I don't understand how a person could be so monstrous.
Oh, wait. I just noticed that the New York Yankees own a 50% stake in this team.
So at least there's one thing I do understand.
Final Score: 201 points.
Penalties: Region, 8 pts; Compound (doubly-egregious), 105 pts; Software, 27 pts; Irrelevance, 39 pts; Name 10 pts; Logo, 12 pts. Bonuses: None.
---
This page Copyright ©2021 Scott D. Rhodes. All rights reserved