| | | |
| --- | --- | --- |
| | Toledo Mud Hens | 128 |
---
Notice: All logos on this page are included within the parameters of 17 U.S.C. § 107, which states that the reproduction of a copyrighted work for purposes of criticism and/or comment is not an infringement of copyright. No challenge to the copyrights of these logos is intended by their inclusion here.
---
Posted 2010 July 11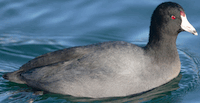 If you're like most people, your first question upon hearing the name "Toledo Mud Hens" is "What's a mud hen?" Look to the right, and you will have your answer. You will note that the logo looks nothing like this. The coloration is wrong, and the distinctive red mark at the top of the beak is missing. Oh, and real mud hens don't have arms.
I don't get this at all. You want your logo to look imposing, right? What's more imposing: a black creature with red eyes, which is what mud hens actually are, or the yellow chick that's actually in the logo? Yes, I said chick. You can tell he's a very young creature because he's standing in front of an egg, and he isn't much taller than it. Admittedly it's hard to be certain when his lower half has been cut off, but based on the parts I see I'm confident in saying he isn't much bigger.
So why didn't they do it the accurate way? There are, after all, several teams in minor league sports that give the animals in their logos red eyes despite the fact that it's completely inaccurate. Here, we have the one team in all of North America that has the ability to throw eeeeeeevil-looking red eyes into their logo without anyone having a valid right to complain,¹ and they don't. Instead, they pick a logo that almost goes out of its way to seem inoffensive. Why? Yes, baseball is an American institution and all that. But I've met sports fans from Toledo. They're scary creatures, especially after they've had a couple of beers. People this scary should have a logo to match.
Or maybe the team figures that the fans are so bad that they don't need encouragement, and in fact should be encouraged to act calm. I'm certainly willing to believe that. But in that case, this logo may go too far in the other direction. This logo is so cutesy that it could backfire and incite others otherwise non-violent people³ to act in a violent fashion. If calming down fans is your goal, my advice is to put the name of the team in baseball script and be done with it.
But I wouldn't worry about that. In the end, fans are going to do whatever they're going to do, and a logo isn't likely to help matters much. This team should just take the opportunity they have and go ahead and draw the bird with black feathers and red eyes. It may look a bit over the top. But they have reality on their side. Reality can be a powerful ally. It should not be spurned lightly.
| | |
| --- | --- |
| ¹ | Okay, that's not entirely true. If the Grand Rapids Griffins put red eyes in their logo, I couldn't exactly say "I've seen a griffin, and it didn't have red eyes."² |
| ² | Or maybe I could. I have a pet greyhound named Gryphon. He is mostly black (there's a bit of white on his chest and on his toes), and has brown eyes which in just the right light look yellow. Yellow eyes, for the record, look pretty darned creepy. Because of this creepiness, I wanted to name the beast either Beezlebub or Asmodeus, but my wife decided to be the voice of reason since I clearly wasn't going to, and insisted that the animal have a name which was not rooted in Satanism. It's just as well; he's such an incredible goofball that it's hard to imagine a more imappropriate name for him than "Beezlebub". |
| ³ | As if Toledo has any non-violent sports fans in the first place. |
Final Score:128 points.
Penalties: Humanoid, 30 pts; Cartoon, 47 pts; Player, 51 pts.
Bonuses: None.
---
This page Copyright ©2010 Scott D. Rhodes. All rights reserved