| | | |
| --- | --- | --- |
| | Tampa Tarpons | 75 |
---
Notice: All logos on this page are included within the parameters of 17 U.S.C. § 107, which states that the reproduction of a copyrighted work for purposes of criticism and/or comment is not an infringement of copyright. No challenge to the copyrights of these logos is intended by their inclusion here.
---
Posted 2023 April 8
I am going to try to avoid making the obvious typo in this review. Apologies in advance if I fail.
A few years ago, when this team was called the Tampa Yankees, my review was basically a long explanation of why calling a team in Tampa (a remarkably snowbird-free city for the Florida peninsula) the Yankees was a terrible idea. In the last paragraph I suggested picking a name that was less likely to piss off the locals.
Be careful what you wish for.
As you've probably guessed from the logo, a tarpon is a kind of fish. Tarpons have been spotted all over the Atlantic Ocean, from Nova Scotia to South America to the west coast of Africa. Apparently no one's really sure what their actual range is, because they're not caught as a food fish in any significant numbers and let's face it, humans don't really give a shit about fish that they can't eat. From what I can find they're not particularly spectacular or intimidating fish, and as previously noted they're not very tasty. They're just, you know, fish. Were it not for the cruel tongue twister formed by the name Tampa Tarpons, or at least the alliteration in the name, I'm sure no one would have ever thought to name a sports team after them. But this isn't the first team with that name. It's not one of those names that's been used for half a dozen different short-lived teams (largely because Tampa hasn't had that many teams), but there was another team called the Tampa Tarpons from 1957 to 1988. I suppose that's as good a reason as any to use this name once the Tampa Yankees decided to change their name.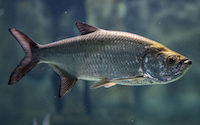 As for the logo, well, what do you expect? The team is named after fish, and the logo has a fish. The fish in this logo doesn't look specifically like a tarpon as opposed to any other fish, but that may have something to do with the fact that actual tarpons don't look specifically like a tarpon as opposed to any other fish. Look at the picture to the right if you don't believe me. That's a fairly generic looking fish.
So that's what we're left with. A logo with a generic fish and a name that you can't say ten times fast. Well, they can't all be winners. But at least I got through this article without making the obvious typo. Because you'd all snicker like a bunch of junior high school kids if I'd ever accidentally typed Tarpa Tarpons instead.
Final Score: 57 points.
Penalties: Alliteration, 5 pts; Equipment, 13 pts; Cartoon, 47 pts; Name, 10 pts.
Bonuses: None.
---
This page Copyright ©2023 Scott D. Rhodes. All rights reserved