| | | |
| --- | --- | --- |
| | Traverse City Beach Bums | 215 |
---
Notice: All logos on this page are included within the parameters of 17 U.S.C. § 107, which states that the reproduction of a copyrighted work for purposes of criticism and/or comment is not an infringement of copyright. No challenge to the copyrights of these logos is intended by their inclusion here.
---
Posted 2009 April 25
One thing I quickly learned while doing the hockey reviews is that if a logo includes an animal that has nothing to do with the team's name, odds are high that it's going to be a bear. I didn't think to wonder whether this would be true in other sports, but if this logo is any indication, the answer is yes.
I find the idea of a bear living on the beach to be amusing. First of all, I'm not sure why a bear would want to hang out at a beach. Yes, there are fish there. But there are also fish in rivers that run through the mountains, and it's usually cooler there. For an animal that's covered with fur, this is an important consideration. Why would an animal that's covered in fur want to hang out at the beach? (If you're going to write in to describe middle-aged men covered in fur you're seen at the beach, please don't. I promise you that I don't need to hear about it.)
Then again, if the bear enjoyed the taste of human flesh, a beach would be a pretty good place to get lunch. Picture, if you will, the bear in this logo rampaging across a beach, noshing on anyone slow enough to get caught. It's a morbidly hilarious picture, don't you think? For bonus points, imagine that the bear is working in tandem with a shark. I can hear the people screaming, "EVERYBODY GET OUT OF THE WATER! NO, WAIT, GO BACK INTO THE WATER! NO, WAIT! OH SHIT, WE'RE ALL GONNA DIE!" People start flapping their arms desperately, hoping to defy their anatomy and fly. And that's when the falcons start swooping down.
This is one reason why I don't vacation at the beach.
Of course, this bear doesn't look like he hangs out at the beach eating people. He doesn't look like he hangs out at the beach at all. There is absolutely nothing about this logo that says "beach" except for the actual word "beach". Yeah, the bear's wearing sunglasses, but so what? People miles away from the nearest beach wear sunglasses. The waves, you say? You say those little swoopy things below the words "Beach Bums" and on either side of the baseball are supposed to be waves? Perhaps. But somehow they come across looking more like the baseball's oversized moustache. And by the way, isn't it a nice touch that the managed to sneak not one, but two baseballs into the logo? They should have put stitching on the white circle behind the bear and gone for the trifecta. Maybe for that one they could even do something crazy like make the stitching red. Honestly, have you ever seen a baseball with blue stitching?
Of course, when I say they have two baseballs in the logo, that's not entirely accurate, because in addition to the two drawings of baseballs, they put the actual word "baseball" below the, er, moustache. Why? Did they think we needed to be told this was a baseball team? Did they think someone would look at this logo and assume we were dealing with a football team?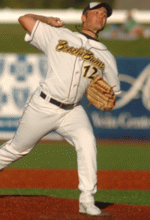 As if all this wasn't enough (and it was), there are a healthy number of flat out mistakes on the logo. Notice, for example, that the logo on the baseball cap appears not on the actual cap portion, but on the underside of the visor. The jersey apparently isn't buttoned, since you can see a stripe of the bear's stomach between the left and right halves of the jersey. Also, notice that his left thumb is on the wrong side of his hand. Yes, you could argue that his arm is turned, but no pitcher would hold his glove hand like that because he uses the glove to hide his hand right before the pitch. In fact, here's a picture of a pitcher (or is that a pitcher of a picture?) I found on the Beach Bums' own website. Notice how he's holding his glove. For that matter, notice how he's holding the ball. Notice the direction he's leaning. Notice — oh hell, just notice any detail you care to, and then look at the logo. I guarantee you the bear won't be doing it right.
So not only is this logo poorly conceived, it's poorly executed, too. I have to wonder if this designer could come up with a good logo if his life depended on it. We should find out. We should leave the designer stranded on a beach, stuck between a bear and a shark, with nothing but a sheet of paper and a box of 64 crayons to protect him. If he can come up with something better, we'll let him go. And if not? That's when the falcons start swooping down.
Final Score: 215 points.
Penalties: Alliteration, 5 pts; Script, 7 pts; Equipment, 13 pts; Obvious, 17 pts; Humanoid, 30 pts; Irrelevance, 39 pts; Cartoon, 47 pts; Player, 51 pts; Logo, 12 pts.
Bonuses: Local, -6 pts.
---
This page Copyright ©2009 Scott D. Rhodes. All rights reserved